Treasures from the Federal Bank of Germany
News Arnulf Hinkel, financial reporter – 27.04.2018
At a volume of 3,374 tonnes and a value of €117 billion (as of 12/2017), the German gold reserves are the second-largest worldwide, covering around 70 per cent of the total currency reserves of the Bundesbank, the German central bank. Until the end of the Cold War, a large part of Germany's gold reserves were stored in New York, London and Paris. In recent years, however, most have been transferred to Germany, where they are safely stored in a high-security vault. Since such a vault is not accessible to the public for understandable reasons, the Bundesbank is currently exhibiting the most remarkable individual pieces from the entirety of the German gold reserves in its Geldmuseum (money museum) in Frankfurt am Main.
A journey through the history of gold reserves
The exhibition not only sheds light on the role of physical gold in monetary policy since the end of World War II, but also presents rare exhibits, such as one of the oldest bullions to be found in the German gold reserves. It was cast in 1917 and delivered in 1956 from the Federal Reserve Bank in New York to the Bank Deutscher Länder, the predecessor of the Bundesbank.
The world's most durable gold coin
The coin-related part of the exhibition is dedicated to historically significant gold coin varieties from the numismatic collection of the Bundesbank. Among the exhibits, for example, are ducats – the most durable coins of all time. They were introduced in 1284 and are still in use today. Coins such as these had a major impact on how international payments were carried out in their day, and in many cases they influenced the mintage of other states.
The barrier-free exhibition runs until the end of September 2018. In addition to rare exhibits, it offers extensive information in German and English.
Opening hours:

| | |
| --- | --- |
| Monday - Friday | 9:00 – 17:00 |
| Saturday | closed |
| Sunday | 9:00 – 17:00 |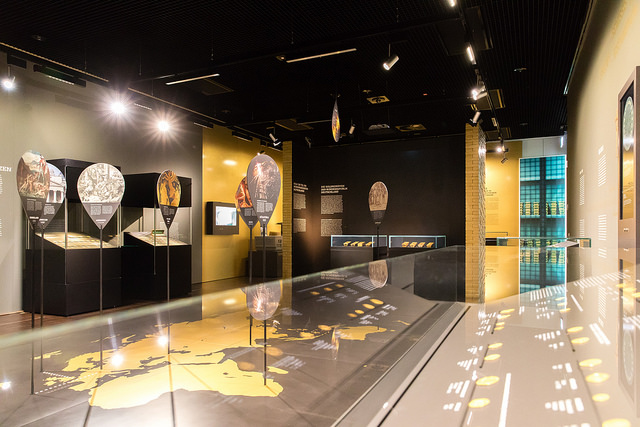 © Bundesbank