Fighting the effects of climate change with gold
News Arnulf Hinkel, financial journalist – 06.09.2021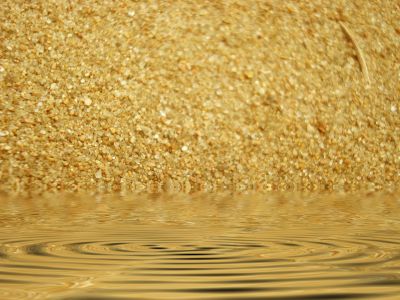 The flood disaster in Germany, which claimed numerous human lives, has once again made the general public and politicians aware of the urgency to take action in order to at least limit climate change. One effect of rising global temperatures has recently faded somewhat into the background: persistent droughts and the resulting scarcity of drinking water, which in future will hardly be enough to quench the thirst of the world's population.
Only just under three per cent of the water on earth is fresh water
Although 71 per cent of our planet is covered with water, 97 per cent of it is the salt water of the world's oceans – undrinkable for humans. The rest is drinkable fresh water, with roughly two-thirds in the ice caps of the poles and in glaciers. According to a UNICEF report on global water supply in 2021, 2.2 billion people do not have regular access to clean water, and around 785 million of them do not even have a basic supply of drinking water. In the face of progressing climate change, this situation is likely to turn increasingly dramatic.
Gold makes seawater drinkable faster than any other option
The desalination of seawater is common and widespread, especially on most of the larger islands and in the Middle East. However, it requires an energy-intensive process involving heavy oil or natural gas. An international research team led by scientists from the Far Eastern Federal University and ITMO University in Russia has recently succeeded in creating nanoparticles of titanium dioxide that make the desalination process of seawater more energy-efficient. After the scientists coated the titanium dioxide with gold nanoparticles, the desalination process was accelerated by a factor of 2.5 due to the precious metal's ability to absorb solar radiation and convert it into process heat. This development could make the global drinking water supply much more efficient and cost-effective. According to the publication of the research results on www.news-medical.net, the gold nanoparticles also serve to detect toxic substances in water.