Trade dispute seesaw boosts gold
Market report Michael Blumenroth – 06.12.2019
Market report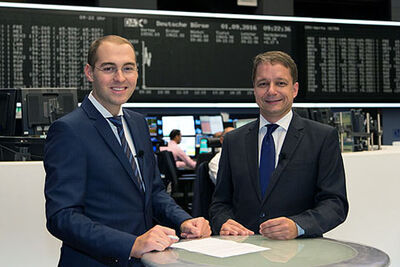 The ending week has turned out slightly more exciting for the markets than the week prior. In Germany, Monday started with a surprise outcome of the new Social Democratic Party's (SPD) leadership. Market participants immediately attempted to apply the implications of the election result to the markets on Monday. Amid speculation that the German "black zero" budget policy might become negotiable, the yields (market interest rates) of European government bonds rose significantly on Monday. US rates also rose, which in turn cranked up the pressure on gold.
Trade conflict deadline approaches
The week's news included the NATO summit in London, but continued to be dominated by almost hourly update reports regarding the US-China trade conflict. The deadline on 15 December is looming; if a settlement is not reached by then, customs duties will be imposed on almost all Chinese-produced goods upon export to the US. On Tuesday and Wednesday morning, the news worsened and caused inflows into safe havens. Yesterday and this morning, reports on the issue struck a more optimistic note, in turn slowing down the gold price.
Week-on-week gains for Gold in US dollar and euro
Gold in US dollars traded around 1,458 $/ounce on Friday morning last week. By Friday afternoon, it dropped to 1,453.25 $/ounce and rebounded to $1,465/ounce in the afternoon, but on Monday receded to levels below 1,455 $/ounce. Amid rather negative news on the trade conflict, it rose to 1,484 $/ounce on Wednesday morning, but has since slipped somewhat and currently trades at around 1,474 $/ounce – more than one per cent higher than a week ago.
Over the course of the week, the euro traded almost one cent firmer against the US dollar within a still consistently narrow trading range.
Xetra-Gold also fell slightly from 42.55 €/gram last Friday morning to a weekly low of 42.42 €/gram on Monday afternoon, but rose to about 43.10 €/gram on Wednesday and traded around 42.65 €/gram this morning.
Trade conflict, central bank meetings dominate agenda
The publication of US labour market data is scheduled for this afternoon. Unexpectedly weak figures could weigh on the US dollar, while a large number of new jobs would provide a boost. As has become a habit, we are eagerly awaiting news on the US-China trade conflict. Next week, both ECB and Fed have meetings scheduled, which are unlikely to hold any surprise.
I wish all readers a relaxing weekend.