Significant regional differences in demand for Gold ETFs/ETCs in 2021
News Arnulf Hinkel, Financial Journalist – 03.01.2022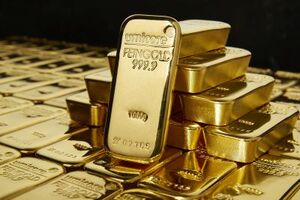 Hopes of an early end to the pandemic, increased bond yields and a number of central banks' announcements of interest rate hikes and tighter monetary policy led many institutional and private investors to shift from gold funds to equity market investments in 2021. According to the World Gold Council's monthly ETF Commentary, this was particularly noticeable in March 2021, when gold holdings of physically backed ETFs and ETCs decreased by 106 tonnes. However, the overall trend for the year proved much more positive; in some regions more so than in others.
Chinese gold funds were up more than 30 per cent in 2021
Outflows from gold funds and gold-backed ETCs exceeded inflows by 3.8 per cent last year, according to the World Gold Council (key date: 17 December 2021). Asian gold funds, however, saw strong growth: in addition to the front-runner China with inflows of 30.9 per cent for the entire year, Indian gold funds also grew by 28.5 per cent. US-based gold funds had the strongest outflows but started recovering towards the end of the year, limiting outflows to 8.5 per cent. European gold-backed ETCs increased by only 0.2 per cent over the year, also with strong regional differences. France, for example, recorded an increase of 26.6 per cent with inflows of 14.5 tonnes, while Germany, despite higher inflows of 19.6 tonnes, saw an increase of only 4.9 per cent in gold-backed ETCs. This is due to the fact that Germans, compared to other countries' investors, are disproportionately heavily invested in gold.
Xetra-Gold: the year's second most sought-after gold ETC
With an increase in gold holdings of 21.1 tonnes, corresponding to a demand increase of 9.1 per cent, Xetra-Gold ranked second worldwide in terms of inflows into gold funds or gold-backed ETCs in the World Gold Council's ranking for 2021. At the same time, Xetra-Gold had the largest gold holdings among gold-backed ETFs/ETCs that made the top ten of the highest net inflows last year.