Safer gold trading thanks to blockchain technology
News Arnulf Hinkel, financial journalist – 20.04.2022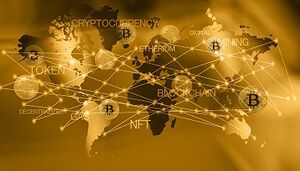 Although "blockchain" is usually primarily associated with cryptocurrencies, industry is increasingly using this technology, for example, to solve supply chain and logistics problems. Those seeking evidence for this trend should just take a look at the "Forbes Blockchain 50" list of companies with a minimum turnover of one billion US dollars that are leading users of "distributed ledger" technology. The best-known application of this technology is blockchain. Users include the world's largest container shipping company Maersk and the US defence company Lockheed Martin.
Seamless tracking of production processes and transactions
Under the name "Gold Bar Integrity Programme", the World Gold Council (WGC) and the London Bullion Market Association (LBMA) teamed up to launch a pilot project in which the history of every single gold bar can be seamlessly traced, from the exact place and time of mining to production and storage by buyers - whether private or institutional investors, funds or central banks. While industrial and logistics companies often use blockchain technology to improve efficiency in their supply chain management with the help of a digital transaction register, the Gold Bar Integrity Programme focuses on transparency and security in precious metal trading. The pilot project is currently limited to registering the trade flows of one-kilo gold bars.
Clear determination of origin serves more than just prevention of black market trading
For one thing, the use of blockchain technology facilitates identification of smuggled goods or gold from conflict regions or countries where the practice of gold mining violates human rights or is particularly harmful to the environment, and thus helps prevent such gold from entering wholesale trade in the first place. For another, the fact that the origin of the gold bars is 100% traceable may be very important to investors with a high level of environmental and climate awareness.