Ruthless rise in yields
Market report Michael Blumenroth – 23.09.2022
Weekly Market Report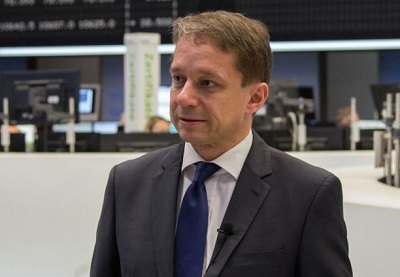 The event of the week was undoubtedly the Fed meeting. Markets had already priced in a rate hike of (at least) 0.75 percentage points but were probably taken by surprise by the monetary watchdogs' anticipation of a significantly higher key interest rate level for the near future. Expected key interest rates are now 4.4 per cent, as opposed to the previously estimated 3.4 per cent at the end of this year, and 4.6 per cent instead of 3.8 per cent at the end of 2023. The forecasts for 2024 have also been raised.
Strong US dollar weighs on gold price
Immediately following the interest rate decision, the gold price dropped to 1,654 US$ per troy ounce, its lowest level since April 2020. A subsequent brief rise back to 1,690 proved to be only a short-term recovery, and it soon started to fall again – all within an hour of the interest rate decision. The rise in two-year US government bond yields to a 15-year high of 4.15 per cent is keeping the gold price in check, as is the fact that ten-year real interest rates (nominal interest rates minus expected inflation) in the US are now more positive than they have been for a long time, at around 1.2 per cent. Yesterday, US government bonds yields continued to climb, especially in those long-term, and as a result, the US dollar has also risen significantly and made gold more expensive. Demand from buyers outside the US has therefore slowed.
Central banks raise key interest rates
The fact that a number of other central banks, such as the Swiss National Bank and the Bank of England, also raised their key interest rates considerably yesterday has contributed to an unfavourable situation for gold prices over the course of this week. Taking into account the bigger picture, they did, however, hold up relatively well.
While the precious metal traded at 1,660 US$ per ounce on Friday morning last week, it hovered between 1,660 and 1,680 over the following days. The low and high for the week was reached within the half-hour after the Fed meeting, at 1,654 and 1,688. This morning, gold traded at 1,672 US$ per ounce.
Xetra-Gold slightly recovered
The Xetra-Gold price is also trading firmer due to the weaker euro. From 53.45 € per gram last Friday morning, it rose to 54.80 yesterday afternoon and was expected to start trading this morning at around 54.70.
The upcoming week is likely to remain under the influence of inflation expectations and the interest and bond markets. With the quarter-end around the corner, additional volatility might be in store.
I wish all readers a sunny autumn weekend.