Possible settlement in trade dispute slows gold down
Market report Michael Blumenroth – 13.12.2019
Market report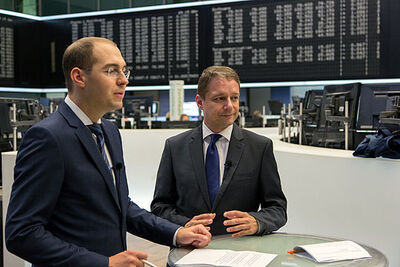 We look back on a turbulent week for the gold price, which came under some pressure towards the end of the week.
It kicked off with a number of central bank meetings, most of which were quite uneventful. Both the Fed and the ECB sent a rather subdued pre-holiday message suggesting that further monetary policy action was not imminent.
Stock markets surge on renewed trade optimism
Two events from the political sphere were much more exciting. A further escalation in the trade conflict looms on Sunday, 15 December, when all goods exported from China to the US might become subject to customs duties. Shortly after Wall Street opened yesterday, US President Trump announced via Twitter that a US-Chinese deal was imminent. This came as good news to the stock markets and ensured that yields, especially on Treasuries, rose significantly. In addition to government bonds, the safe havens yen, francs and gold also saw increased selling.
UK election result brings clarity to the markets
This market movement intensified yesterday evening around 11 p.m. after initial projections showed conservatives gaining the upper hand in the UK election. For market participants, this finally brings clarity, i.e. Britain will follow through on Brexit at the end of January 2020. Remember: markets hate uncertainty.
Safe havens weaker
Gold was thus traded somewhat cheaper over the course of the week. In US dollars, the precious metal stood at 1,474 $/ounce on Friday morning last week. By Friday afternoon, after very strong labour market data from the US, it receded to 1,459 $/ounce – the previous week's low. By Wednesday noon it had recovered slightly to $1,465 an ounce. On Wednesday afternoon, and especially until yesterday afternoon, rebounded to 1,486.75 $/ounce, but dropped to 1,463.50 $/ounce due to the developments described above. It currently trades around 1,472 $/ounce – which is actually not too bad, given higher yields and bullish equity markets.
The euro traded about a cent stronger against the US dollar over the week. Xetra-Gold also initially depreciated somewhat, from 42.65 €/gram last Friday morning to 42.40 €/gram on Friday afternoon, but then recovered to around 42.90 €/gram yesterday afternoon before Trump's Twitter message. This morning, Xetra-Gold traded at around 42.35 €/gram – mainly due to the firmer euro following the UK election.
By and large, we are now waiting for further developments in the trade dispute between the US and China before holiday calm spreads across the markets.
I wish all readers a restful third Advent weekend.