New lightweight gold: 5-10 times lighter than standard gold
News (Advertising) Arnulf Hinkel, financial journalist – 31.01.2020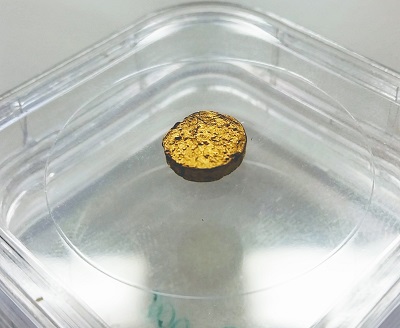 The term "plastic gold" usually refers to premium credit cards. This has just changed: an innovative gold alloy allows 18-carat gold to float on milk foam. The recently developed lightweight gold allows for completely new perspectives in industrial applications such as chemical catalysis, radiation shielding and electronics as well as in watches and jewellery.
High density of gold no longer a disadvantage
Gold has traditionally been popular not only because of its value as a crisis-proof currency and long-term investment, but also because of its special physical and chemical properties. It does not corrode, tolerates acids, is more ductile and conductive than most other metals, and has an unlimited shelf life. Until now, only its high density limited the use of gold in weight-sensitive areas – anyone who has ever held a gold bar will agree.
The innovative light gold can be fully modified and adapted at will
Strictly speaking, the ultra-light gold was already developed at ETH Zurich five years ago, but at that time it proved too unstable to be processed any further. In January 2020, ETH Zurich scientists, led by Professor Raffaele Mezzenga, published the solution to this problem in the scientific publication "Advanced Functional Materials", claiming the innovative gold product officially operational. The name "plastic gold" suggests itself, as the weight reduction is made possible by a matrix consisting of protein fibres and latex polymer, while retaining all the advantages of gold and a purity of up to 18 carats. Gold nano-crystals are embedded into this matrix. The resulting gold alloy has many microscopic air pockets, invisible to the human eye. The innovative gold alloy has all material properties of plastic, but can be polished and processed like gold. According to Professor Mezzenga, the properties of the new light gold can be changed at will. In the future, this should open up a variety of new applications for the precious metal.
Image rights: © ETH Zürich/ Peter Rüegg