Jerome Powell versus gold
Market report Michael Blumenroth – 10.03.2023
Weekly Market Report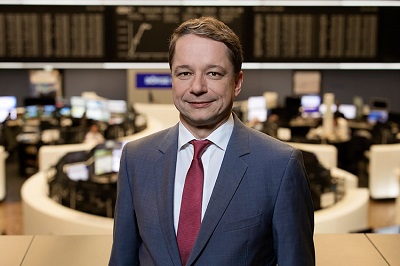 A convincing start to the week for gold was abruptly thwarted by Fed Governor Jerome Powell on Tuesday afternoon. What had happened?
In his hearing before the US Senate Banking Committee, he reiterated that the Fed would continue to take robust action against persistently high inflation. Market participants particularly focused on his statement that the Fed would be ready to pick up the pace of interest rate hikes if economic data required them to do so. At the previous two meetings, the Fed had taken a step back by reducing the pace of rate hikes from 0.75 to 0.50 and then 0.25 percentage points.
Stronger rate hikes, higher interest rate peak?
This is precisely why the futures markets had also assumed, with a probability bordering on certainty, a rate hike of 0.25 percentage points for the upcoming Fed meeting on 22 March. Immediately following Powell's statement, the markets were pricing in an increase of 0.50 percentage points at a 65 percent probability. Powell also warned of an interest rate peak likely to be higher than assumed by monetary guardians before the release of the labour market and consumer price data for January. Again, financial markets were quick to react, now pricing in the rate peak at around 5.65 per cent, up from 5.47 per cent on Tuesday morning.
Yields on US Treasuries above 5 per cent mark
Yields on two-year US Treasuries rose sharply and traded above the 5.0 per cent mark for the first time since 2007. The trade-weighted US dollar index also appreciated by 1.3 per cent. More than five per cent per annum yield on an investment form considered "safe" for two years: this blew icy headwinds across stock and commodity markets, hitting gold especially hard.
Gold prices week on week: headed south
While gold was still trading at 1,844 US$ per ounce on Friday morning last week and at a weekly high of 1,858 on Tuesday afternoon, Powell's words sent it on a downward slide, to 1,809.50 on Wednesday morning before rallying back to 1,834 yesterday, after yields and the US dollar gave up some of their gains. This morning at 8:00, gold traded at 1,832. The significant setback in US yields last night due to the evening's losses on the stock exchanges – last night in the US and this morning in Asia – have therefore not yet strongly impacted gold prices.
Xetra-Gold echoed this development. From 55.85 € per gram last week and at a weekly high of 56.05 on Monday, it withdrew to 55.15 on Tuesday following Powell's comments. This morning, Xetra-Gold was expected to start trading at a slightly higher 55.60.
Outlook: US labour market and consumer price data
In the coming days, the publication of important data is scheduled, with this afternoon's US labour market data expected to point the markets in the right direction. The better the data, the stronger the upward pressure on US bond yields and the US dollar is likely to be, and vice versa. Next Tuesday, the markets will be watching closely as the US releases February's consumer price data.
I wish all readers a pleasant weekend.