High reliance on gold in times of crisis
News Arnulf Hinkel, Financial Journalist – 11.05.2022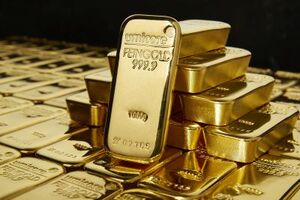 In the first four months of this year, private and institutional investors alike have purchased gold more than at any time since the start of the Coronavirus pandemic. In Q1 2022, global gold demand rose by a total of 202 per cent year-on-year, despite many countries' higher bond interest rates and an increasingly restrictive monetary policy. Concerns about rising inflation rates and geopolitical crises prevailed among many investors.
Gold investment as inflation protection especially pronounced in Europe and the US
As was already the case towards the end of 2021, demand for gold-backed ETFs decreased in Asia – by 11 per cent in Q1 2022 year-on-year. Demand for physical gold slumped even more sharply, falling 43 per cent year-on-year, especially in China. In April, however, the drop in demand for Asian gold funds was reduced to -0.57 per cent. The bulk of the demand in gold funds and ETCs came from the US with a volume of 189.4 tonnes, and Europe with 136.7 tonnes. Overall, gold-backed ETFs and ETCs saw global inflows of 311.6 tonnes within the first four months of 2022, a significant growth compared to the same period last year, with outflows of 189 tonnes.
Sharp decline in traditional gold demand
Gold jewellery is particularly popular in emerging markets as both a sign of economic wealth and a store of value. With gold in the form of jewellery, demand often runs counter-cyclically to that of gold for investment purposes: in times of economic boom, it is more likely to be purchased than in times of crisis, when the gold price is often above average and the already-owned gold jewellery may even be used as a crisis currency. In addition to the demand for investment gold in Asia, demand for gold jewellery thus also slumped significantly within the first months of 2020; especially strongly in India, where it decreased by a sharp 26 per cent, while China saw a less severe decrease of 8 per cent. Across the majority of industrialised countries, gold jewellery demand changed little in 2022. In Australia, however, where the economy picked up the most significantly of all G20 countries, private households' positive economic situation prompted a 40 per cent year-on-year rise in gold jewellery demand in the first quarter of 2022.
(All data taken from the publications "Q1 2022 Gold Demand Trends" and "Monthly Gold ETFs Data & Commentary April 2022" by the World Gold Council.)