Gold's most iconic moment in film history soon to celebrate its 55th anniversary
News (Advertising) Arnulf Hinkel, financial journalist – 21.09.2018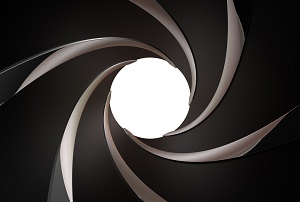 Since 1895, when the first commercial feature film was screened in Berlin's Wintergarten, countless films have featured gold in some way. By far the most widely known is the James Bond spy thriller "Goldfinger", shot in early 1964. Its unforgettable cult scene featuring gold-plated Bond girl Shirley Eaton should be familiar to every film fan on this planet. Here are some lesser known facts about gold in "Goldfinger".
One "Gold-Girl" that turned into two
Since Shirley Eaton, who had gained some popularity as a "looker" in rather shallow comedies, had health concerns regarding her "gilding", the largely unknown actress Margaret Nolan had to serve as her "guinea pig" first. Nolan's sacrifice was rewarded: all golden, she was the lead dancer in the famous title sequence of "Goldfinger", thus immortalizing herself in the Oscar-winning movie. Her actual role in the movie as James Bond's masseuse was extremely short and certainly less memorable.
Fake news existed long before social media
Eaton, who starred as one of the certainly most valuable corpses in the history of film, had a team of doctors at her side during the shooting. In addition, a 15x15 cm area on her back was spared from gilding to prevent suffocation from lack of oxygen – which was how the death of her film character in "Goldfinger" was explained to the audience. What the doctors were still arguing about in the early 1960s is now common knowledge: the human skin by far does not absorb enough oxygen to render a complete gilding or other body painting life-threatening. Rather, any danger lies in a potential poisoning by substances added to the gold or other colour applied to the skin. In any case, Eaton survived the gilding completely unharmed, a fact that did not at all prevent the spread of the rumour that the actress had died during the film's shooting. However, since Eaton played roles in eight more films after "Goldfinger", the rumour, which had persisted for a long time, should be regarded as disproved.