Gold prices nearly unchanged
Market report Michael Blumenroth – 08.05.2020
Market report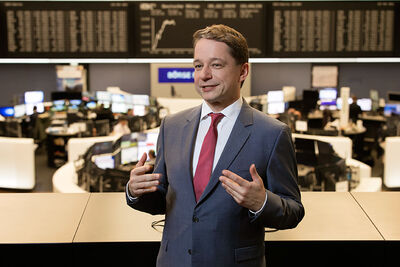 As a result of a somewhat riskier attitude on the part of investors across equity markets – despite COVID-19, the Nasdaq erased its losses and rose above its January level – and a US dollar exchange rate that until yesterday had risen significantly, gold prices initially came under pressure. With a short end-of-week rally, they were able to recover, at least until this morning.
Contrary to the previous two weeks, there was no intervening oil price crash. On the contrary, the prices for WTI oil doubled from a low level within ten days since last week Monday. A topic that had been completely out of focus due to COVID-19 but moved back into the spotlight at the end of last week: the US-Chinese trade conflict, with Trump threatening to impose new tariffs on China if it failed to meet its "obligations" under the so-called Phase 1 agreement. As so often, the US dollar was then sought as a safe haven. Yesterday's news of talks between the US and China somewhat eased the tension. Nonetheless, new record lows in yields/market interest rates on two and five-year US government bonds were reached yesterday, a development that weakened the US dollar and supported gold prices.
Week-on-week US Dollar development
This morning, gold against the US dollar stood almost exactly where it had last week on Thursday morning, at 1,720 $/ounce. On May Day on Friday, it receded to 1,671 $/ounce in illiquid trading. We saw continued volatility until yesterday, between 1,680 and 1,710 $/ounce. Due to the above mentioned setback of the US dollar and US yields, the precious metal rebounded yesterday evening to just under 1,722 $/ounce and currently trades at 1,719 $/ounce.
Euro slightly weaker, Xetra-Gold stable
The euro initially traded weaker over the course of the week, falling to two-week lows, but then retraced its steps into the well-known territory of around €1.08/1.09 €/US$, remaining slightly below last Thursday morning's levels. Xetra-Gold thus saw a decline within regular trading hours over the course of the week, from 50.95 €/gram last Thursday morning to a weekly low of 49.85 €/gram on Tuesday, and rebounded to 51.05 €/gram this morning at the start of trading.
US employment data, to be published this afternoon, is not expected to bring much new information, and market participants have already factored in the fact that it will be devastating. The markets seem to remain focused on the question of whether the economic dips that COVID-19 is leaving behind worldwide will be overcome in the medium or long term. This uncertainty will remain our companion for a while, a fact that is likely to support gold prices.
I wish all our readers a relaxing and sunny weekend.