Gold at new record highs in a number of currencies
Market report Michael Blumenroth – 24.04.2020
Market report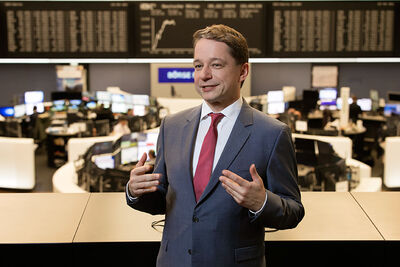 The gold price reached new cyclical or all-time highs in many currencies, including the euro.
The week did not start out on a positive note for gold. It had recovered by Tuesday, possibly due to the oil markets' turbulence. On Monday evening, the expiring May contract for WTI oil fell to an unbelievable record low of more than -$40/barrel. On Tuesday, the June contracts for WTI and Brent oil also went downhill, triggering the usual reflexes among many market participants, who played it safe and closed out positions by selling, especially in commodities.
Calming markets on Wednesday
After the situation had calmed down somewhat on Wednesday, the gold price also recovered. This development was assisted by the fact that governments around the world are increasing output in economic stimulus packages, in turn raising inflation fears among a number of market observers. In addition, we are seeing a small trend towards safe havens.
Yesterday (Thursday), the gold price fought its way to new record highs in a number of currencies (euro, Canadian and Australian dollar, South African rand, etc.). In US dollars, however, the positive development did not lead to new cyclical highs, which, however, may still occur.
Gold in US dollars rises by two per cent week-on-week
The gold price stands a good two per cent higher this morning than last Friday morning's 1,695 US$/ounce. It had, however, receded to 1,660 US$/ounce by Tuesday. For the above mentioned reasons, it then redacted its steps and reached 1,739 $/ounce yesterday afternoon, within sight of the previous week's seven-and-a-half-year high of 1,747 US$/ounce. The precious metal currently trades at 1,729 US$/ounce.
Gold in euro reaches all-time high this morning
The euro initially traded within a range of 1.08/1.09 €/US$ for three days over the course of the week, before dipping lower yesterday. Gold in euro therefore rose slightly higher. The precious metal's new all-time high in euros per ounce was reached this morning at 1,613 €/ounce.
The price of Xetra-Gold thus rose within regular trading hours over the course of the week, from 50.50 €/gram last Friday morning, through a weekly low of 49.00 €/gram on Tuesday to a new all-time high of 51.90 €/gram this morning at the start of trading.
The markets may now enter a new phase of uncertainty, as our return to normalcy after the pandemic remains up in the air.
Nevertheless, I wish all readers a relaxing, sunny weekend.