Gold recycling: the current situation
ESG Arnulf Hinkel, Finanzjournalist – 02.05.2022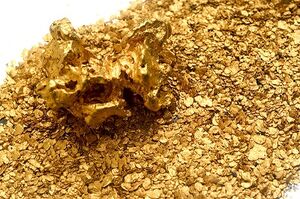 The London Bullion Market Association LBMA, operator of the world's most important spot market for physical gold, published the latest figures and developments in gold recycling in its study "Spotlight on Gold Recycling". According to the study, the share of recycled gold within total supply has averaged 28 per cent over the past twelve years – a figure set to rise in the future. Among the issues it discusses, the study reflects on the reasons for the strong year-on-year fluctuation of the share of recycling gold as well as its greatest growth potential areas.
Two factors determine share of recycled gold
90 per cent of recycled gold consists of high-grade scrap gold from jewellery. Of this, 70 per cent is sourced from emerging markets, where gold serves as a store of value and nest egg. The motivation to sell gold jewellery is usually either a high gold price or personal economic hardship. In 2009, both factors came together in the wake of the financial crisis, triggering an enormous willingness to sell jewellery across both emerging and industrial countries, with the share of recycled gold within total supply increasing to an unprecedented 42 per cent.
Recycling: the key to a smaller ecological footprint
Recycling gold releases less than one-twentieth of the carbon amount of even the most modern, climate-friendly mining. Since high-grade scrap gold recycling is already at 100 per cent, the ecological footprint of gold can only be further reduced by intensifying another area of gold recovery: e-scrap, which thus far accounts for only 3 to 5 per cent, according to the LBMA. Gold in smartphones, PCs and motor vehicles offers the highest growth potential. However, e-scrap recycling is energy-intensive due to the diminutiveness of the amounts of gold to be found there, which stands in the way of a better climate balance of gold. This could change with the spread of a new, significantly more climate-friendly recycling technology that relies on the bacterium Cupriavidus metallidurans instead of electrochemical processes. This innovative recycling approach is based on a study of the natural formation process of gold nuggets.