Gold prices still valiantly resisting rise in yields
Market report Michael Blumenroth – 22.04.2022
Weekly market report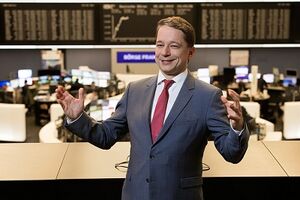 The upward trend in capital market interest rates continued in the past two weeks. The yields on 10-year UK government bonds rose to a 7-year high, and those on their 2-year counterparts to a 13-year high. The yields on US government bonds were even more in the spotlight, with those on 5Y, 7Y and 10Y maturities passing the 3% mark, and those on 2Y maturities climbing above 2.7%. Even German Bunds are now consistently in positive territory from 2Y upwards, which has not been the case for several years.
The higher the yields on supposedly "safe" government bonds, the stronger the headwind for gold prices. After all, investors can expect a coupon payment on government bonds, while gold in itself generates neither interest nor dividends. Real interest rates on 10-year US Treasuries (nominal yield minus inflation expectations) have almost returned to positive territory for the first time in years. Before the beginning of this year, many analysts had forecast this climb in real interest rates as a clearly negative factor for the development of gold prices, and had assumed strong price losses for the precious metal.
Real interest rates remain low
In my opinion, however, many investors tend to look at the "current" real interest rate, which, given inflation of 8.5% in the USA and 7.3% in the eurozone, is quite low compared to the minimal or even negative interest rates on the money market or account balances. Moreover, the rate of inflation has recently been surprisingly high in many countries (e.g. this week in Canada). It is possible that we have yet to reach the peak, contrary to the forecasts of many analysts.
Gold as an inflation hedge
Anyone looking for inflation protection is likely to consider gold sooner or later. So prices have stayed impressively high, despite the huge rise in yields and significant interim gains in the US dollar.
The price of gold was USD 1,932 per ounce on Friday morning of the week before last, and climbed steadily to USD 1,998 per ounce by Easter Monday. This is when profit-taking started. In addition, the US dollar rose to its highest level in more than two years, followed yesterday (Thursday) by a retreat in the gold price to USD 1,936 per ounce. This morning it is trading a little higher again at USD 1,953 per ounce.
The Xetra-Gold price also benefitted from the weak euro, rising to as much as EUR 59.05 per gram during normal trading hours on Tuesday of this week from EUR 57.10 per gram the end of the week before last. Xetra-Gold is likely to start trading at around EUR 57.95 per gram today, after yesterday's setback to EUR 57.20 per gram.
For scheduling reasons, my next market report will not be out for another three weeks, on 13 May. The highlight of the interim will likely be the Fed meeting in the first week of May. Many other central banks will also be meeting, so things will be interesting.
My best wishes to all readers until next time.