Gold price weaker but lingering around 1,500 US$/ounce mark
Market report Michael Blumenroth – 23.08.2019
Weekly market report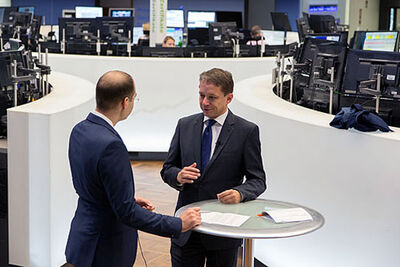 Market activity throughout the ending week was somewhat calmer than during the two previous weeks, with signs of fears of a weakening global economy slightly easing.
The stock markets thus dared to make tentative attempts to recover. Yields on government bonds also rebounded somewhat from last week's cyclical or all-time lows, while in the US, expectations of interest rate cuts on the futures markets were somewhat priced out. While expectations for an imminent Fed interest rate cut by 50 basis points on 18 September still stood at 30 per cent just two weeks ago, it has since dropped to zero. An interest rate cut of 25 basis points is, however, still expected.
Focus on Fed summit for rate-cut direction
Market participants will eagerly listen to Fed Chairman Jerome Powell this afternoon as he gives the opening address to the central bankers' summit in Jackson Hole, while it does seem questionable whether he will commit to anything a good three weeks prior to the next Fed meeting – especially since opinions on the interest rate cut on July 31 were divided within the committee.
In Germany, for the first time in history, a 30-year Bund was issued at a yield of 0.00 per cent and then sold at a negative interest rate. However, in Germany as well as in most European countries, yields rose significantly over the course of the week. This, coupled with the US dollar gaining strength almost daily over the course of the week, exerted gentle pressure on the gold price.
Gold in US dollars and euros weaker week-on-week
Gold traded at 1,515 $/ounce on Friday morning last week (its highest level in recent days) and receded to 1,493 $/ounce yesterday. It temporarily remained above the 1,500 $/ounce mark every day. Currently, it trades at 1,496 $/ounce, which is more than one per cent below last Friday's level.
This week, the euro/US dollar exchange rate stayed within an extremely narrow range, mostly slightly below the 1.11 €/US$ mark, with dwindling hopes of US interest rate cuts as an important factor.
From 43.95 €/gram on Friday morning last week, the price of Xetra-Gold briefly reclaimed the 44 €/gram mark in the afternoon. When the US dollar gold price plummeted, Xetra-Gold followed suit and dropped to its weekly low of 43.30 €/gram on Monday afternoon. With the subsequent somewhat weaker euro, Xetra-Gold rebounded in the course of the week, kicking off trading this morning at roughly 43.50 €/gram. And that is just over two percent away from its previous high of 44.55 €/gram in 2012.
Gold remains under the influence of bond markets
The price of gold will likely continue to follow developments on the bond markets and keep an eye on the exchange rate of the US dollar. A dampening of speculation by Jerome Powell on interest rate cuts for any reason would of course be detrimental to the gold price. If, on the other hand, he were to rekindle them, it would support gold, especially as the markets will be somewhat sparsely populated due to a UK bank holiday on Monday.
I wish all readers a restful, late summer weekend.