Gold price remains volatile for another week
Market report Michael Blumenroth – 12.07.2019
Weekly market report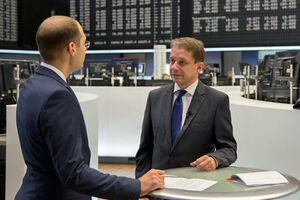 The past few days saw the gold price moving all over the place once again.
As in recent weeks, the expectations of market participants with regard to central banks' monetary policy – and that of the US Federal Reserve in particular – played a decisive role.
Last Friday, the price of gold started off on a downward trend – due to the number of newly created jobs in the US, which exceeded expectations. This put a damper on investors' speculations concerning interest rate cuts. On Friday morning, the futures markets had priced in key interest rate cuts of 50 basis points by the US Federal Reserve as early as 31 July with a probability of 30 per cent. On Friday evening, this had changed to a probability of only 8 per cent.
This also had the expected effect on the markets: yields and market interest rates on US government bonds rose, as did the price of the US dollar. Both were detrimental to the gold price, which then lost up to about three per cent before recovering.
In US-dollar terms, gold traded at 1,417 $/ounce on Friday morning last week. After the publications of US labour market data, it went down to 1,387.50 $/ounce before recovering to 1,400 $/ounce by the end of the week. From Monday morning to Wednesday afternoon, gold traded in a fairly narrow range between 1,407.50 $/ounce and the weekly low of 1,386 $/ounce (Tuesday morning).
On Wednesday afternoon, gold then rallied substantially as Fed Chairman Jerome Powell surprisingly expressed concerns about the state of the US economy in a testimony before the US Congress. A rate cut on 31 July (likely by 25 basis points) is now considered a given by the markets. Powell also indicated that the Fed would be willing to continue supporting the US economy should it weaken.
As a result, gold jumped from 1,390 $/ounce on Wednesday morning to 1,427 $/ounce on Thursday morning. Yesterday, it then returned to 1,402 $/ounce after the core rate of US consumer prices was a bit higher than expected; this could soon turn into a reality check for those fantasising about interest rate cuts. Gold is currently trading at 1,410 $/ounce.
As the euro/US-dollar exchange rate still remains within a very tight range, the Xetra gold price moved almost in lockstep with the gold price in US dollars. From 40.35 €/gram last Friday, the price fell to 39.80 €/gram on Friday afternoon due to US labour market figures. On Monday, Xetra gold traded around 40.30 €/gram; on Tuesday it slid back to 39.80 €/gram, the low point of the week so far. After Jerome Powell's testimony before Congress, the Xetra gold price climbed to 40.65 €/gram, but then fell again as a result of US consumer price data. Currently, it hovers around 40.20 €/gram.
For the next two weeks, I will unfortunately not be able to send out these newsletters. During that time the markets are likely to remain primarily focused on central banks' monetary policy. Key meetings on the agenda will be those of the ECB on 25 July and the Fed on 31 July. Another thing to watch out for: figures are due to come out next Monday that will shed more light on the development of the Chinese economy.
In the meantime, I wish all readers some gorgeous and restful summer days.