Gold price more than quintupled since 2000
News Arnulf Hinkel, Financial Journalist – 16.01.2023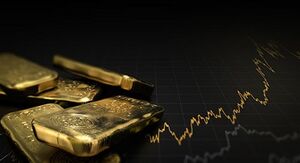 Anyone who believes that the purchasing power of the euro has noticeably decreased only with the high inflation of 2022 is mistaken. Since 2000, the Eurozone currency has almost continuously lost value compared to gold. Already at the end of 2019 – before the pandemic and the invasion of Ukraine by Russia – the asset management company Incrementum AG noted in its annual "In Gold we trust" report an increase in value of the precious metal against the euro of 367 per cent from the turn of the millennium until 2019.
The euro lost heavily against gold since its introduction
Against gold as a reference currency, the euro lost a full 77.5 per cent of its value from 2000 to 2021. In other words, since the turn of the millennium, gold in euro has become 5.4 times more expensive – clear evidence of the precious metal's function as a store of value. Taking the introduction of the common currency as book money in 1999 as a point of reference for the euro/gold price comparison, the development of the Eurozone currency and the gold price diverge even further. In this period, the value of the precious metal in euro increased nearly sevenfold.
Gold: historically convincing as a store of value
Going back much further in history than just to the turn of the millennium provides more evidence of the precious metal's qualities in terms of value storage. In 1914, for example, the first car to roll off automatic assembly lines in mass production was Henry Ford's Model T. At US$850, its cost was equivalent to about 40 ounces of gold. The very same amount of gold is worth just under €76,000 today, and would certainly buy you an upper-middle class limo. A look back at the purchasing power of gold during the times of the Roman Empire paints a similar picture, with a beautifully tailored tunic, for example, selling for one ounce of gold. Today, you would certainly be able to buy a made-to-measure suit for just under €1,800.