Gold price in euro hits new all-time highs
Market report Michael Blumenroth – 30.08.2019
Weekly market report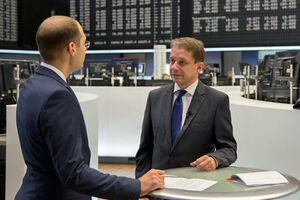 In last Friday's report, which was published in the morning, I had written that the week had been somewhat calmer than the previous ones. This changed in the afternoon, when China announced new tariffs in reaction to the US tariffs, some of which will come into force this Sunday. Only a short time and probably some temper tantrums later, Trump fought back and further increased tariffs on products already subject to them. China had already announced a reaction of this kind some time ago. Still, the vast majority of traders, including myself, where surprised by them.
This caused prices across the US stock markets to drop and demand for safe havens to rise – yen, francs, government bonds and gold were, as is usual in such situations, sought.
Inverted yield curve: a signal of recession?
The situation eased somewhat after the G7 summit in France on the weekend was characterised by slightly conciliatory tones from the US delegation. However, the markets remain firmly in the grip of economic concerns. A visible sign of this is that since Wednesday, yields on two-year US Treasury bonds have been higher than ten-year Treasury yields. If this continues, it may be indicative of a US recession, as the past has shown.
Yields/market rates on 30-year Treasury bonds fell to a new record low of just over 1.9 percent. German ten-year Bunds reached an all-time low yesterday, as did Italian government bonds. In other words, market interest rates are still on the retreat worldwide. This of course supports interest-free gold enormously.
Gold at new all-time high
On the other hand, in the course of the week, the US dollar gained quite a bit with the slightly renewed optimism regarding a market-friendly development in the trade dispute. This put some pressure on the gold price, which was able to achieve a new all-time high against the euro at 1,399 €/ounce in the course of the week with the slightly weaker euro. Gold also rose to record highs against other currencies.
In US dollars, gold traded at 1,496 $/ounce on Friday morning last week. By Friday afternoon, however, it had risen to 1,530 $/ounce in response to the renewed escalation in the trade dispute. On Monday night, gold received a new boost and climbed to a new six-and-a-half year high of 1,555 $/ounce. Since then it has moved up and down between 1,520 and 1,550 $/ounce. Despite cautious optimism in the trade conflict, the precious metal is thus holding up quite well, as are silver and platinum, which also gained quite a bit over the course of the week. It currently trades at 1,530 $/ounce, more than two per cent higher than last Friday.
This week, the euro initially traded against the US dollar in an extremely narrow range, but then temporarily slipped below the 1.11 €/US$ mark.
Weekly profit for Xetra-Gold
From 43.50 €/gram on Friday morning last week, Xetra-Gold climbed almost continuously up to 44.96 €/gram yesterday morning, a new all-time high. With the now somewhat weaker gold price in US dollars, Xetra-Gold also retreated slightly. It kicked off trading this morning at around 44.60 €/gram.
I expect the gold price will continue to follow the development on the bond markets and the course of the US dollar. Market observers are now waiting for September's central bank meetings. In the US, the long Labor Day weekend means that trading resumes on Tuesday.
I wish all readers a relaxing and enjoyable weekend.