Gold is a popular means to reduce crypto risk in portfolios
News Arnulf Hinkel, Financial Journalist – 09.06.2022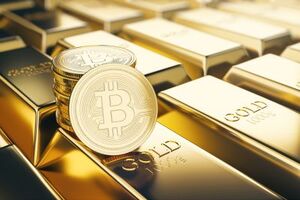 At the end of May 2022, Peter Wall, CEO of Argo Blockchain, once more referred to the crypto currency Bitcoin as Gold 2.0 during an interview with CNBC – as many before him have. This comparison has little to do with the precious metal's actual function as a store of value, amongst others proven by the fact that bitcoin has already lost half of its value five times since its introduction at the end of October 2008. A global study by consulting firm Hall & Partners has recently brought to light an entirely different connection between crypto currencies and gold.
Private investors classify cryptocurrencies as high-risk investments
As part of the study commissioned by the World Gold Council, the investment patterns of 10,000 private investors in the US, Germany, Canada, India and China were surveyed over 10 months. The first finding: digital currencies have entered the mainstream, with 31 per cent of the respondents having bought crypto currencies during the study period – even though only 6 per cent of them consider digital currencies a safe long-term investment. Private investors are obviously fully aware of the risks of this asset class.
44 per cent of the study participants also invested in gold
An asset class that also proved highly popular with the respondents – even more so than crypto currencies – is gold. This is due, in part, to the fact that the study participants value the independence from currencies and financial systems in both asset classes. The second reason: gold is also viewed by crypto-savvy private investors as an effective counterweight in terms of portfolio risk. Regarding its function as an optimal store of value, twice as many respondents prioritised gold than those who rated their preferred cryptocurrency as a store of value. An at 60 per cent, a significantly higher number of respondents also relied on the precious metal as a protection against inflationl.