Gold: 9 per cent annual gains since 2000
News Arnulf Hinkel, Financial Journalist – 24.01.2023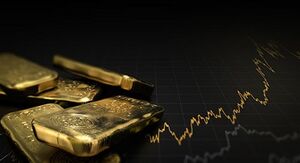 As volatile as the gold price might be in the short term and as varied its annual performance: Eurozone investors who purchased gold at the beginning of the new millennium have enjoyed average annual gains of 9 per cent. According to data recently published by Reuters Eikon (as of 31.12.2022), the precious metal has performed to an average annual gain of 9.3 per cent worldwide – across all regions and currencies – since the turn of the millennium.
US gold gains even higher than in Eurozone
Investors should not be deceived by its weak performance last year: over the past 22 years, gold has contributed an average annual plus of 9.4 per cent to portfolio performance in the US. It achieved even greater annual growth rates in Japan at 10.3 per cent, the UK at 10.8 per cent, and in India at 12.2 per cent. In Australia and Canada, the price of the precious metal increased by an average of 8.7 per cent annually, closely followed by China with 8.4 per cent. Swiss investors, on the other hand, saw an annual gold price increase of only 6.6 per cent.
Gold clearly outperformed government bonds
Gold performance over the past 22 years is significantly better than that of other financial instruments aimed at long-term investors with a conservative risk profile, such as government bonds of economically stable industrialised countries. At the turn of the millennium, for example, 10-year German Bunds offered a yield of 5.4 per cent, which subsequently decreased almost continuously, even slipping into negative territory in 2019. It was not until 2022 that interest rates of 10-year German Bunds recovered into positive territory, currently standing at 2.3 per cent. The interest rate development of 10-year US Treasuries paints a similar picture: At the beginning of the millennium, it stood at over 6 per cent and decreased almost continuously over the following 20 years until it reached a low of 0.7 per cent in mid-2020. Currently, the interest rate of 10-year US treasuries is at just under 3.5 per cent.