Getting involved to help and raise awareness: World Children's Day at the "Ark"
News 17.10.2022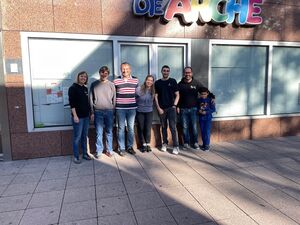 For several years, Deutsche Börse Commodities has been supporting the children's foundation "Die Arche" (The Ark), founded in 1995, with financial donations. It is money well invested: socially disadvantaged children and families benefit daily from the foundation's efforts. In addition to free lunches for schoolchildren, homework supervision and tutoring, the Arche facilitates a variety of leisure activities and holiday camps for children and teens. Assistance and counselling services for parents are also offered.
Hands-on experience of the foundation's work
On World Children's Day, the Arche needed additional helping hands – an opportunity for the Deutsche Börse Commodities team to roll up their sleeves and help. At short notice, the two Managing Directors Dr Michael König and Steffen Orben with their team members Mateja Maric and Louis Dyroff took a day off from the Xetra-Gold business to help with the food distribution. The extensive pizza order went down extremely well with the children and adolescents. After the Xetra-Gold team had helped the pupils with their homework, they stayed on to talk, exchange ideas and play games.
"The work of the Ark is indispensable – as is our commitment"
These were Michael König's words after an action-filled day. He stressed the importance of the children foundation's work, especially under the current circumstances, and called for greater societal commitment to volunteering. Co-managing director Steffen Orben added: "Our day at the Arche gave me an opportunity to experience the challenges first hand. And they are enormous. We have a great responsibility as a society – but also the means and opportunities to fulfil this responsibility by helping."