Firm US dollar and capital market interest rates weigh on gold
Market report Michael Blumenroth – 13.05.2022
Weekly market report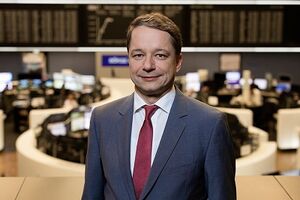 Gold prices defied the rise in yields for a long time, but finally cracked under the pressure over the past few days. The rise to 3.20 per cent for ten-year US Treasuries and 1.18 per cent for ten-year German Bunds was simply too much. Government bonds, like gold, are considered safe havens, after all, and the higher the yields on bonds, the more attractive they become versus gold, which pays neither interest nor dividends.
Physical gold: declining demand in Q1 2022
Another reason for the slide in gold prices to a three-month low is the strength of the US dollar, which has risen to its highest level since 2002 (!) against the other nine G10 currencies. Yesterday, the euro briefly dipped below the 1.04 mark against the US dollar for the first time in five years. Gold is thus becoming more expensive for investors outside the US. As a result, demand for physical gold, especially in China and India, was weaker in the first quarter than in the previous year.
Inflation higher than expected
The gold price continues to be supported by market uncertainties, not least due to geopolitics. In addition, the week's inflation data was surprising. Not only in the US, but in all eleven emerging market countries that published inflation data this week, it was, on average, above analysts' predictions. In many countries, consumer price increases do not yet seem to have peaked, although the central banks of many emerging markets had already entered the cycle of interest rate hikes in 2021. The ongoing lockdowns in China are also exacerbating supply chain problems, which in turn are likely to continue to drive inflation.
Gold in US dollars
Friday morning three weeks ago, gold traded at 1,953 US$ per ounce. By last Wednesday, it had dropped to a three-month low of 1,832, at which point bargain hunters entered the scene, prompting gold to rebound yesterday to around 1,860. However, the resurgence of the US dollar dampened recovery, and gold slipped to a new three-month low of 1,811 last night. By early this morning, the precious metal had somewhat recovered to 1,826 US$ per ounce at around 7 a.m.
Xetra-Gold: weak euro limits losses
Xetra-Gold, on the other hand, benefited from the weak euro, resulting in a less dramatic price drop. While Xetra-Gold traded at 57.95 € per gram three weeks ago on Friday, it initially rose to 58.50 on the last trading day in April. Subsequently, it dropped to 56.15 on Wednesday this week. This morning, Xetra-Gold was expected to start trading at around 56.50 € per gram.
The gold price development will most likely remain under the heavy influence of yields and the US dollar exchange rate. Apparently, the greenback is having a run at the moment, which is weighing on the prices of the precious metal.
I wish all readers a beautiful spring weekend.