Figure of the month: 4 kilometres
Arnulf Hinkel, Financial journalist – 02.09.2019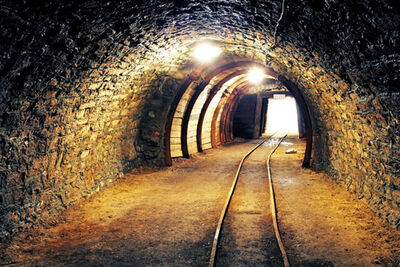 Since 2012, there have been no significant new gold deposit discoveries that could be exploited in an economically viable manner with today's production possibilities. As a consequence, existing gold mines are being expanded further and further in order to meet gold demand. Front-runner among them is the Mponeng gold mine, with its deepest shafts located some 4 km below the surface. The mine is located in South Africa's Gauteng province, not far from the city of Carletonville, about 65 km southwest of Johannesburg.
A one-hour trip from the entrance to the bottom of the mine
Operated by the AngloGold Ashanti mining company, the gold mine is one of the most substantial in the world. Its cocky Sesotho name "Mponeng" translates to "Look at me". With 10 grams of gold extracted per ton of rock excavated, the mine has proven highly profitable. However, the route to the most recently built tunnels is complex: it takes no less than an hour to get to the deepest mining sites, although, according to a report by freelance journalist Claudia Bröll in the German daily newspaper Frankfurter Allgemeine Zeitung, the main elevator reaches a speed of 60 km per hour. Almost 4,000 miners use the elevator daily on their way to work.
Temperatures of up to 66 degrees Celsius within the rock
The fact that the deepest tunnels are 4 km closer to the liquid core of the earth than ground level is also reflected in the temperatures. In order to make the inhospitable climate of 66° fbearable for humans, "slurry ice", a phase-changing refrigerant, is continuously pumped into the tunnels. It consists of millions of ice micro crystals as well as additives of salt and alcohol in order to lower the temperatures to less than 30° C. Anyone who believes that nothing can survive at such depths for a long time is mistaken: progressing deeper and deeper, scientists discovered the remarkable bacterium desulforudis audaxviator in the Mponeng gold mine in 2008, a life form that not only manages to exist completely without sunlight, but also requires no organic compounds whatsoever for its metabolism.
Image rights:© panthermedia.net /TTstudio