Figure of the month: 24
News Arnulf Hinkel, Financial journalist – 01.02.2018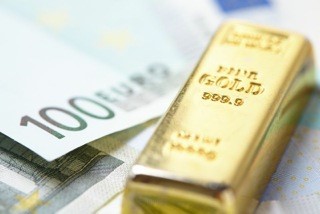 A gold coin, a golden bracelet or necklace with a purity of 99.99 per cent is referred to as 24 karat gold. The term "karat" is borrowed from the French word "le carat", which was derived from the Latin "carratus". It can be traced back to Arabic and was already considered a unit of measurement in ancient Greece. Today, "karat" refers to one twentieth of a quarter, which measures the fine gold content of jewelry or coins.
Other degrees of purity
In addition to 24 karat gold, other grades of fineness are quite common, e.g. 23.2 karat for Thai gold, which has a purity of 96.5 per cent. Thai gold has been around for several thousand years, since gold mining in Thailand dates back a long time. In fact, the historical name of Thailand, Siam, means "gold".
Crown gold, which was introduced in England by Henry VIII during the 16th century, also was common in South Africa, Bangladesh, India, Sri Lanka and Pakistan in the form of bullions boasting a purity of 91.67 per cent, equaling 22 karat. Coin gold used to have a purity of 21.6 karat, corresponding to a purity of 90 per cent. Modern gold coins, however, are usually produced with 99.99 per cent purity, i.e. 24 karat gold. So-called "gold 875" is widespread in Arab countries of the Gulf region: gold 875 bullions are marked as 21 karat gold.
Gold in jewelry
While the percentage of fine gold on bullions today is imprinted as a percentage, usually at 99.99 per cent, the fine gold content of jewelry or gold watches is still shown in karat until today. The usual abbreviation in literature for karat, "K", is not used on gold jewelry or watches, but instead it is shown as a "C". The purity of diamonds is also measured in karat. However, the so-called "metric karat" – a unit of measurement that was introduced by the Meter Convention in 1875 – is used here.