Figure of the month: 20 billion
News (Advertising) Arnulf Hinkel, Financial journalist – 03.04.2018
If it is true that gold holds a virtually erotic appeal, then the name of the asteroid Eros is spot-on: according to a BBC News report, the 34 km long, aubergine-shaped celestial body bears no less than 20 billion tonnes of gold. But Eros' qualities are not limited to a single precious metal. In addition to enormous quantities of aluminium, the asteroid also carries around 20 billion tonnes of platinum, making it a flying treasure chest.
A heavenly fortune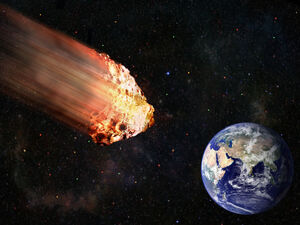 In 1998, NASA scientists succeeded in examining Eros relatively closely when the space probe NEAR Shoemaker (abbr. for Near Earth Asteroid Rendezvous), specially developed for this purpose, approached the asteroid to within 1,200 km to take the first images of Eros. However, it was not before 2001 that the probe actually managed to land on the for comprehensive examination. Extensive data material was dispatched back to Earth just before contact with NEAR Shoemaker broke off for good. According to NASA, Eros seems to be typical of stony asteroids that crash to earth, containing some 3 per cent metal. This means that unimaginable amounts of gold might be floating through space.
Will there be a galactic gold rush?

Specialized companies like Space Adventures are already working feverishly on facilitating gold mining in space. Many experts are convinced that technically, galactic gold mining could be possible in the foreseeable future, but the problem of profitability is still completely unsolved. In an interview with the German news magazine "Der Spiegel", expert Jeff Kargel, geologist at the University of Arizona, reflected rather cautiously on this topic and curbed exaggerated expectations. Kargel is convinced that commercial and profitable mining of extra-terrestrial gold deposits will not be possible before 2050 at the earliest, but might happen before the end of the century.