Figure of the month: 1898
News Arnulf Hinkel, Finanzjournalist – 01.05.2022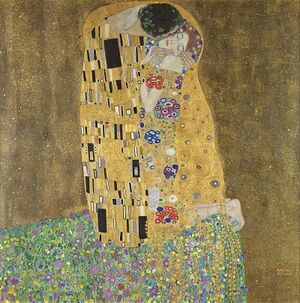 The widespread use of gold in art dates back to antiquity. Today, one artist in particular is associated with the precious metal: Gustav Klimt, who painted the portrait of Adele Bloch-Bauer I, also known as "Golden Adele". It is the painting at the centre of the movie "The Woman in Gold". The Austrian artist, one of the most famous representatives of Symbolism, started his artistic career in 1880 and gained international attention with his first painting using gold, "Pallas Athene", presented to the public in 1898.
A popular material with artists in early cultures
Due to its colour and lustre, gold was associated with the sun and all things divine in early human cultures. In ancient Egypt, the use of gold in art reached its first peak, reflected, amongst others, in the golden offerings and interior architecture of the pyramids decorated with gold leaf. In the Middle Ages, the precious metal served as a popular background for religious representations and mosaics. It also served to show power and wealth. From the 16th century, its prominence in paintings started to decline. Oil paintings gave rise to a new concept in art, in which naturalistic and realistic representations were increasingly in demand.
1898 to 1911: Gustav Klimt's golden phase
"Pallas Athene" was Klimt's first gold painting, but by no means his most famous. In addition to the aforementioned portrait of Adele Bloch-Bauer from 1907, it was above all his series of eight elaborate mosaics created for the dining room of the Palais Stoclet in Brussels between 1905 and 1911, and the painting "The Kiss" from 1908 that cemented Klimt's place among the most important painters of our time. Incidentally, the material value of the gold leaf he used, which he processed by crushing it into so-called shell gold, was already rather low at the time of the works' creation in view of their value; today it is completely negligible.