Figure of the month: 15
News Arnulf Hinkel, Financial Journalist – 01.11.2022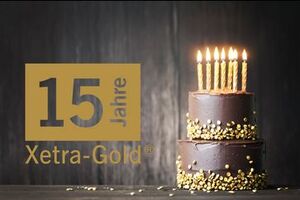 Deutsche Börse Commodities GmbH, a joint venture of Deutsche Börse and its partner companies Bankhaus Metzler, Bank Vontobel, Commerzbank, Deutsche Bank, DZ Bank and Umicore, the exchange-traded commodity Xetra-Gold was launched on the electronic trading platform Xetra® and the Frankfurt Stock Exchange in November 2007. At the time, none of the "founding fathers" had any idea that their already high expectations for the new product would be exceeded – today, 15 years later, Xetra-Gold is the leading ETC in Europe and number 3 worldwide among gold-backed ETFs/ETCs.
Gold holdings grew 24-fold in the first 10 years
Following its successful launch in Germany, Xetra-Gold was also approved for distribution in other European countries in the following years. By the beginning of 2011, the product had gathered mainstream status; according to a survey by Quanvest GmbH dealing with investment proposals by banks and investment advisors, 71% of all recommendations for precious metal investments were "Xetra-Gold". By 2017, the gold holdings had increased to over 170 tonnes – 24 times the volume of the launch year 2007.
Xetra-Gold has gained 52.9 percent in value in the last five years
On the ETC's tenth anniversary, in November 2017, one gram of gold was trading at €35.11. Today, Xetra-Gold stands at €53.68 - an increase of 52.9 per cent within five years. Gold holdings currently comprise over 236 tonnes. However, in 2022, the year of its 15th anniversary, the focus is less on the growth of Xetra-Gold, and more on the topic of sustainability; not only does the issuer Deutsche Börse Commodities act strictly in line with ESG criteria, the company is also committed to gold production that is as environmentally and climate-friendly as possible. Among other things, the company ran a social media campaign called "#GoldPhoneChallenge" in order to motivate people to recycle their old smartphones, since recycled gold leaves the smallest ecological footprint. The aim of this influencer-supported campaign was to increase awareness of the issue of gold recycling and create initial awareness among many people. As part of the campaign, Deutsche Börse Commodities will donate the equivalent of a kilo bar of gold to the Earthbeat Foundation, which among other things has set itself the goal of creating alternative employment opportunities for people in Congo, thereby combatting the dangerous working conditions in illegal gold mines.