Figure of the month: 1.249.249 euro
News Arnulf Hinkel, financial journalist – 01.11.2019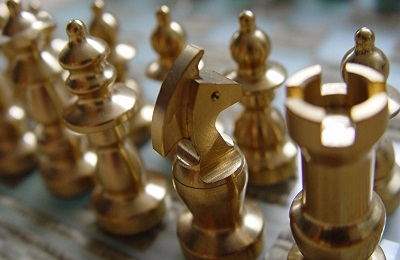 Gold is just as popular as an ornament and precious jewelry as it is as a financial instrument which helps investors to hedge their portfolio strategies. Therefore, it should not come as a surprise that gold has also a place in the world's most famous strategy game - chess. Consequently, only one of the world's ten most precious chess sets comes without gold. To celebrate its 250th anniversary, the French glass company Baccarat produced a chess set consisting exclusively of transparent white and midnight blue crystals in the company's typical glass design. With a retail price of 270,723 euro*, the Baccarat crystal chess game occupies place 5 of the most expensive chess games.
The most luxurious chess set of all time is worth over 1.2 million euro
On top of the list of the most expensive chess sets is the Jewel Royale Chess set, result of the cooperation between the companies Boodles and Jewel Royale and, at a list price of more than 1.2 million euro*, offering a game set where all the chess pieces are made of solid 18-carat gold. Depending on the chess-related value of a pawn, jewels are added. The ruby-covered kings alone cost 55,768 euro* - a piece, of course. In contrast, the tenth most expensive chess game "Venice in the Middle Ages" by Pianki with 28,744 euro* seems almost like a bargain.
2nd and 3rd place are occupied by the most famous and the heaviest chess sets
With the exception of garden chess installations, the chess set Jim Grahl made of 14 carat gold and silver is most certainly the heaviest in the world: each piece weighs no less than 450 grams and reflects the aesthetics of medieval Europe. Price: 658,730 euro*. The probably most famous chess set refers to the strategy book "The Art of War" by Sun Tsu. Therefore, the theme of the game set designed by Victor Scharstein is predominantly Asia, with the pawns made of solid gold set with diamonds, rubies, sapphires and emeralds. The game board itself is made of ebony and solid gold. The exact price of the game is unclear, but the manufacturer allegedly rejected the top bid of 705,782 euro* in an auction.

* Price information and gold content data are taken from the auction and collectors' information web portal Catawiki.
** Picture: © PantherMedia /Viktor Wedel