One of the election winners: Gold
Market report Michael Blumenroth – 06.11.2020
Weekly Market Report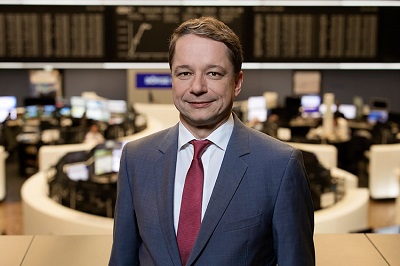 This week, all eyes have been on the US presidential election, and it has been a much tighter race than most polls had predicted. Since Wednesday, results indicate that the US Congress majorities will remain in different hands, with the Democrats retaining control in the House of Representatives and Republicans possibly defending their Senate majority, albeit by a very narrow margin.
Weaker US dollar
As many investors had expected the Democrats to win the White House as well as the Senate and House of Representatives, volatility ruled the markets on Wednesday ahead of emerging election result trends. After initial gains as the safe haven among currencies, the US dollar is seeing a sharp decline, alongside crumbling yields (market interest rates) on long-term US Treasury bonds since Wednesday night. The US interest rate lead, which had been especially pronounced compared to European countries, is thus down. Both of these developments boosted the gold price. Yesterday evening, the Fed confirmed its continued support of the US economy via its monetary policy in the medium to longer term.
Gold in US dollars: 4 per cent week-on-week gain
This week's gold price in US dollars has seen significant gains, around 4 per cent by this morning. From 1,872 $/ounce last Friday morning, it had risen to 1,952.50 $/ounce by yesterday afternoon. After a small setback to 1,935 $/ounce last night due to a firmer US dollar, the precious metal currently trades at 1,950 $/ounce.
Gold in euros lags slightly behind
As the euro gained 1.5 per cent against the US dollar over the course of the week, the Xetra-Gold price also rose, albeit more cautiously. Within regular trading hours, Xetra-Gold climbed from 51.60 €/gram last Friday to a weekly high of 53.10 €/gram yesterday afternoon and currently trades at 52.95 €/gram.
The question ruling the currency markets will be whether the recent US dollar weakness signals a new trend. Meanwhile, US vote counting may soon come to an end and US labour market data is set to be published this afternoon – so whatever is in store, it certainly won't be boring.
I wish all our readers a relaxing and sunny weekend.