Figure of the month: €855,525
News Arnulf Hinkel, financial journalist – 01.10.2020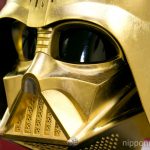 Our September figure of the month issue was about the world's most expensive Coronavirus face mask. Made by an Israeli luxury jeweller for a Chinese businessman from 18-carat white gold, it is studded with 3,600 jewels and is worth €1.3 million. Some might remember an equally expensive but incomparably more famous predecessor: a 24-carat gold replica of Darth Vader's Star Wars mask, constructed in 2017 for the 40th anniversary of the space saga. At the time, it was valued similarly at €1.24 million.
The mask would be at least €264,000 more expensive today
When Japanese jeweller Ginza Tanaka made the Darth Vader mask, he obviously only had wealthy Star Wars fans in mind. At the time, the mask, which measures 30 centimetres in height, had a pure material value of €592,000. Today's material cost would amount to €855,525, as the value of gold has risen by 44 per cent over the last three years. The Darth Vader mask would therefore have been a worthwhile investment, provided a sufficient number of Star Wars fans had sought to purchase the mask. However, actually wearing the mask would prove strenuous, due to its weight of roughly 16.5 kilograms.
Film-related gold coins for fans with smaller budgets
Star Wars fans who deem €12.4 million for the Darth Vader mask too expensive can purchase physical gold in the form of special coins for considerably less money. Themed gold coins are regularly issued for popular film franchises. The most recent example is the James Bond gold coin, issued just in time for the new 25th 007 spy thriller "No time to die". Before purchasing such special mintages, film fans should keep in mind that the value of these coins is usually in part sentimental and might decrease – despite rising gold prices.