Figure of the month: US$8,000
News (Advertising) Arnulf Hinkel, financial jounalist – 01.04.2020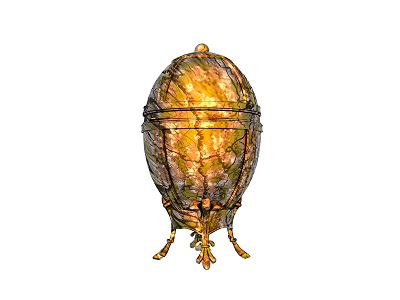 When a scrap dealer purchased a gold-plated egg at a US antiques market in 2012 for roughly US$8,000, he initially only recognized the material value of the artistically crafted piece of jewellery, which was otherwise without function. His first impulse was to melt it down. However, according to the German auction website catwiki.de, the scrap dealer did what should always be done after (or even better, before) the purchase of an antique object: he conducted a little online research and found out that the gilded object was actually an original Fabergé egg, with an estimated value of about €20 million.
Unique art form inspired by homesickness
The fact that Fabergé eggs exist at all is due to the fact that Alexander III, Czsar of Russia, commissioned a gold egg from Peter Carl Fabergé, a Russian jeweller and goldsmith, in 1885 as an Easter gift for his young wife Maria Flodorovna. Fabergé had already impressed the Czar with his jewellery and goldsmithing at the 1882 All-Russia Industrial and Art exhibition in Moscow. The unusual gift was intended to console the Danish-born Czarina, who suffered from homesickness. The expensive Easter gift in the style of an existing art collection of the Danish royal family proved a hit. Maria Flodorovna was overwhelmed by the artistry of the first Fabergé egg, and a new tradition was born. Every following year for Easter, Alexander gifted his wife Fabergé eggs, 52 in all.
A highly lucrative Easter egg hunt
Of the 69 eggs produced – Fabergé also produced a number of eggs for other members of the imperial family as well as for wealthy industrialists – a total of 60 reappeared after the turmoil the Russian Revolution. With no trace of the remaining nine precious jewelled gold eggs, finding one of them could prove extremely rewarding financially, as proven by the above-mentioned scrap dealer.
Picture copyright: © PantherMedia / Norbert Dr. Lange