Figure of the month: 4,000
News Arnulf Hinkel, Finanzjournalist – 01.01.2023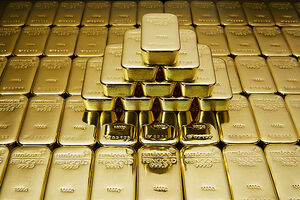 In India, gold is traditionally deemed extremely important. According to the World Gold Council, around half of India's annual gold demand is based on the practise of presenting newlyweds with gold jewellery. The Indian wedding season in January and February thus even significantly impacts global gold demand. The continuously high consumer gold demand in India has grown by a further 10 per cent year-on-year over the first three quarters of 2022.
India's temples contain fabulous riches
While the gold reserves of the Central Bank of India were at an internationally non-record-breaking 785.3 tonnes in November 2022, around 4,000 tonnes of gold can be found somewhere else entirely, according to the Indian newspaper Business Standard: in Indian temples, largely hidden from view. Take the Padmanabhaswamy temple in the state of Kerala, which was handed over to the state of Kerala in 2011 as part of a decision by the Supreme Court in New Delhi against the opposition of the royal family. A subsequent inventory brought large quantities of precious stones as well as 536 kg of gold in five secret cellars to light – worth over US$15 billion at the time. A sixth secret cellar has not been opened to this day, as it remains unclear whether it and its contents would be irrevocably destroyed or buried forever in the process. According to the US magazine Forbes, the temple's greatest treasures are presumed in this sixth cellar, including up to 1,300 tonnes of gold.
Pilgrims' donations continuously grow gold treasures
The Sri Venkateswara temple in the southern Indian state of Andhra alone is said to receive monthly gold donations averaging around 100 kg – and has done so for over 2,300 years, according to the Business Standard. Around 100,000 pilgrims visit the temple daily. The situation is similar at the Vaishno Devi Temple, which counts 10 million pilgrims annually. Overall, there are an estimated 2 million Hindu temples in India.