Colloidal gold: the most important component of Covid-19 rapid tests
News (Advertising) Arnulf Hinkel, financial journalist – 31.03.2021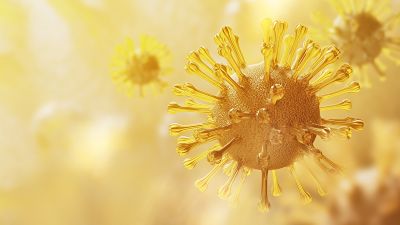 Until recently, it was primarily biochemists, electronics engineers and medical doctors who were familiar with colloidal gold. This has recently changed, since colloidal gold is listed on almost every package of Covid-19 rapid antigen tests. These tests work on the same principle as pregnancy tests or rapid tests for highly contagious diseases such as malaria. Gold plays a pivotal role in all of them.
Gold-labelled antibodies show infection
Colloidal gold consists of micro particles with a diameter of 2 to 200 nanometres, used in the form of sols or gels in LFAs (lateral flow arrays). These gold micro particles have a deep red colour. The LFAs serve to analyse human bodily fluids and to check for the presence of antigens – in this case, against SARS-CoV-2. The test strip in the test kit is coated with gold-labelled antibodies that react with a discolouration on contact with SARS-CoV-2-typical proteins. Since the rapid tests only react to antigens, they are not quite as conclusive as PCR tests. Nevertheless, experts deem them highly reliable overall.
Extreme temperatures can greatly reduce validity
As a recent study by the clinical centre and research facility Charité Berlin on the reliability of corona rapid tests revealed, prolonged storage of the test kits at temperatures of 30 degrees or more can lead to a reduction in sensitivity, which in turn can result in false-negative test results. This effect is amplified at 37 degrees or more. On the other hand, low temperatures of 4 degrees and less can lead to false-positive test results. The head of the study, Prof Dr Drexler, therefore emphasised in an interview with German news outlet n-tv the importance of adhering exactly to the individual rapid tests' instructions for use and storage to avoid false test results, for anyone conducting the tests in test centres or at home..