Central bank week
Market report Michael Blumenroth – 17.06.2022
Weekly market report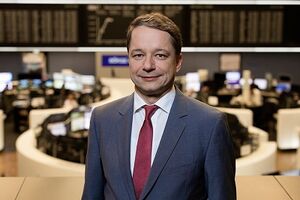 A rare succession of central bank meetings took place this week. Within a period of 40 hours, meetings were held by the European Central Bank (ad hoc), the US Fed, the Swiss National Bank, the Bank of England and the Bank of Japan. The ECB felt compelled to react to the dramatic surge in sovereign bond yields – in particular those of Southern European countries, which had followed last week's regularly scheduled meeting. By announcing new instruments and renewing its emphasis on high flexibility in how it reinvests redemptions of maturing bonds, the ECB was able to contain the rise in yields.
Interest rate hikes
The US Fed, in turn, raised key interest rates by 75 basis points, as had been increasingly anticipated in recent days. Jerome Powell, however, rather dampened expectations that another rate hike of 75 basis points would have to follow in July as well. The SNB sprung the biggest surprise by lifting key rates by a completely unexpected 50 basis points, to -0.25 per cent. As expected, the BoE delivered a 25-basis point hike, to 1.25 per cent, but hinted quite clearly at larger increases in the summer.
Market reactions
Stock and bond markets experienced extreme price volatility as a result of the rapid succession of what were in some cases surprising monetary policy decisions. Even currency pairs that are not normally so volatile, such as the euro/US dollar, moved quite dramatically at times. The US dollar's temporary rallies had a dampening effect on commodity market prices too, until it depreciated considerably after all during trading yesterday.
Gold price performance
The direction of the gold price was not clear for quite some time, but it was under significant pressure in mid-week following the new yield highs and the rock-solid US dollar. Gold traded at US$ 1,845 per ounce last Friday morning. It initially climbed at the start of this week to US$ 1,878 on the back of a slightly weakening US dollar. Pricing in of the Fed's significant rate hikes and the temporarily firm greenback sent the price of gold on a downhill slide that finally came to rest at US$ 1,805 per ounce. The precious metal rebounded back to above US$ 1,850 an ounce following the Fed's meeting and, particularly yesterday, on the back of the depreciating US dollar and declining yields. As of 8.00 a.m. today, gold is back to US$ 1,845 per ounce, or to the exact same level as last Friday.
The Xetra-Gold price also fluctuated heavily over the course of the week. Last Friday, it was still trading at €55.90 per gram, and at the beginning of this week at €57.20 per gram, but by Wednesday had slipped to €55.65 per gram. Yesterday it was back at €56.70 per gram. As of 8 o'clock this morning, Xetra-Gold will likely be trading at €56.45 per gram. This price reflects the somewhat weaker euro exchange rate this week compared to last week.
The markets' volatility can be expected to continue. This trend could possibly sustain the demand for gold at a high level.
I wish all readers a sunny weekend – and hopefully not too hot!