Safety should be top priority when purchasing gold
News (Advertising) Arnulf Hinkel, financial journalist – 02.07.2020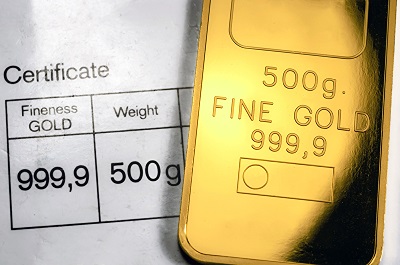 The Corona pandemic has triggered a veritable gold bullion craze, and dubious gold dealers are trying to profit by offering inferior products or counterfeits. Unfortunately, a number of these fake shops are using renowned names. In its latest newsletter, German gold bullion producer Degussa has warned gold buyers that the company's name is being misused online. In the past, fake gold bars were most commonly made of a gold-plated semi-precious metal such as copper or brass. Today, tungsten is used as a core for fake gold bars. Tungsten has almost exactly the same density as gold, and sophisticated methods are required to identify the fakes – no great difficulty for gold experts at jewellers or banks. For laypersons without specialist knowledge, it is, however, extremely difficult to identify forgeries.
The bullion is genuine – but what about quality?
Most private investors are just as incapable of judging the exact quality of a gold bar as they are of assessing the origin of the precious metal used. The standard met by most renowned gold manufacturers is the Good Delivery certificate by the LBMA (London Bullion Market Association). Certification is tied to the adherence to strict requirements regarding the gold bars' dimensions, weight, appearance, and stamping.
There are no bargains when it comes to buying gold
When purchasing gold bars, private investors can reduce the counterfeit risk to almost zero by prudently selecting a vendor. Gold bars should preferably be bought from traders who are themselves able to expose fakes. When it comes to online shops and auction houses, special offers are generally suspicious and should be avoided. Although bid/ask spreads are relatively wide, especially for smaller quantities of gold, they should never count for a large part of the price.
Gold-backed ETCs with the right to delivery as an alternative
A counterfeit-proof way to buy gold is to invest in gold ETCs (exchange-traded commodities) in the form of bearer bonds backed by physical gold, which securitise the right to delivery of the certified amount in bullions from the issuer. These gold bars are purchased exclusively from traditional, trusted manufacturers and stored in accordance with the latest security standards. While investors should be aware of the fees for delivery beforehand, bid/ask spreads for ETCs are much narrower than for gold bars.