2D gold might revolutionise chemical industrial processes
News Arnulf Hinkel, Financial journalist – 22.08.2019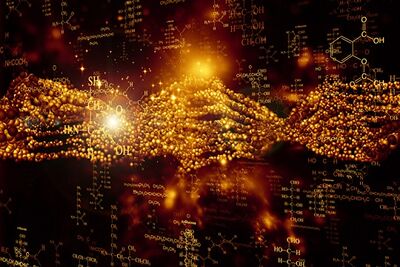 A team of researchers led by Dr. Sunjie Ye from the Molecular and Nanoscale Research Group at the University of Leeds, England, has succeeded in developing sub-nanometre gold nanosheets that are even thinner than the gold nanoparticles already used in numerous industrial and medical applications: so-called 2D gold*.
Admittedly, the newly developed gold nanosheets are not really two-dimensional, but they do come pretty close: the material with a thickness of only two atomic layers measures only 0.47 nanometres.
The new 2D gold is one million times thinner than a fingernail
The innovative gold nanosheets are made of tetrachloroauric acid. The 2D gold is obtained from this acid in an aqueous solution in which a shaping agent is used to arrange the gold in a lattice structure only two atoms strong. Thus, the 2D gold shimmers greenish in the solution, which is why the research team at the University of Leeds jokingly christened it "nano seaweed". The advantage over the gold nanoparticles currently used in catalytic processes is that practically every single gold atom of the new 2D gold nanosheets is involved in catalysis. The use of 2D gold catalysts will thus be around 10 times more efficient than the gold catalysts currently used in the chemical industry.
A wide array of new applications for gold
Regarding established applications in the chemical industry and medicine, the new 2D gold's superior efficiency will make catalyst-based processes more sustainable and eco-friendly. Yet, according to Dr. Ye, the project manager, completely new, more exciting applications are on the horizon: thanks to the flexibility typical for gold, 2D gold can be used for innovative technological applications such as electronic ink or the production of artificial enzymes to purify water or to more accurately diagnose diseases.
* The research team of Dr. Sunjie Ye initially announced and explained their development of 2D gold in the Advanced Science journal dated 6 August 2019.
© panthermedia.net /Andrew Ostrovsky