Uncertainty across markets drives gold price to new six-year highs
Market report Michael Blumenroth – 08.08.2019
Weekly market report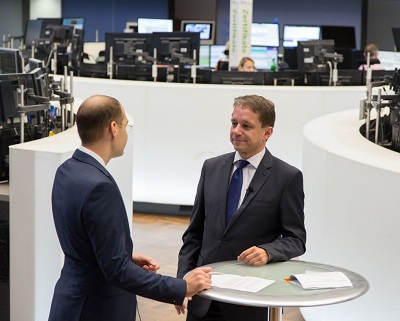 This week's market report comes a day early, with plenty of good news for gold investors. The focus once again is on the trade conflict between the US and China, which is expected to escalate further. This has sparked fears in the markets that the global economy could slow down at a faster pace than expected.
On Monday, the Chinese yuan had depreciated sharply and traded above the 7 yuan mark per US dollar for the first time in eleven and a half years. In contrast to the previous months, the Chinese central bank did nothing to counter the weakness of its currency. This was seen by investors as a signal that China could react to Trump's tariff increases by devaluing its own currency, which could, in turn, partially offset the effects of US tariffs on Chinese goods.
Investors seek refuge in safe havens
Amid fears of a devaluation race in the currency markets and further rather weak economic data published around the globe at the beginning to middle of the week, a number of investors took flight, selling equities as well as commodities such as copper and oil, which are subject to economic conditions. The funds thus released were poured into safe investments, i.e. currency markets in yen and Swiss francs, any government bonds available as well as in gold and silver on the commodity markets.
Negative yields on government bonds
New (cyclical or all-time) lows occurred on the bond markets for almost all government bonds with longer maturities. The yield on ten-year US Treasuries fell to its lowest level since Trump was elected president at the end of 2016 (1.59 per cent, compared to 3.15 per cent last autumn). Ten-year Bunds yielded minus 0.61 percent on Wednesday afternoon, and 30-year Bunds yielded minus 0.165 percent, which means that all German government bonds yielded negative returns. Yesterday, three Asian central banks lowered key interest rates further than expected by the markets. Many market observers take this to be the starting signal for a new round of interest rate cuts around the globe.
Gold rises above US$1,500 for the first time since 2013
Low and in many countries even negative bond yields, a weakening US dollar against the yen, franc and euro, and the fear of further market turbulence – it did not take long for Gold to react. The precious metal stood at 1,439 $/ounce on Friday morning last week. On Monday night following the depreciation of the yuan, the gold price jumped to new six-year highs and then climbed step by step (with small setbacks on Tuesday) to the new six-year high of 1,510.40 $/ounce yesterday afternoon. After yesterday's slight panic – reflected in record low yields and a weak opening of US stock markets – had somewhat subsided, gold again receded last night to 1,492 $/ounce and currently trades around 1,500 $/ounce (Thursday morning).
Contrary to earlier this year, the euro seems to be in demand amid the further escalating US-Chinese trade conflict, due to the belief that this time, the US is harming itself. The euro rose by more than one cent week-on-week.
Xetra-Gold also sees strong weekly gains
From €41.70/gram last Friday morning, Xetra-Gold climbed to a new cyclical high (also a six-year high) of €43.20/gram yesterday afternoon, when yields/market interest rates had reached their new cyclical lows. This morning (Thursday) the Xetra-Gold price started trading at €42.95/gram.
A lot will now depend on whether what we have seen in the last few hours was merely an interim recovery for equity markets and yields, or whether the trend is reversed and proves sustainable. Market participants currently appear uncertain as to what to expect and market liquidity is low as many are still on their summer break. Movement in both directions is thus likely to occur more suddenly and turn out more extreme than what we are used to.
I wish all readers a relaxing and happy summer weekend.