Successful Invest 2017
News 21.04.2017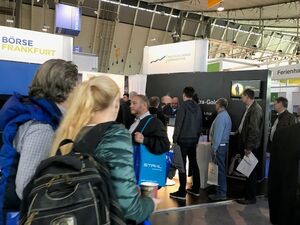 The Invest, one of the largest finance and investment events, took place for the 18th time in Stuttgart this year. Approximately 12,000 private investors, investment advisors and asset managers visited the fair and seized the opportunity of visiting one of the 300 exhibition booths, attending interesting lectures and discussing investment strategies directly with the finance experts. Visitors also had a clear focus on risk management, asset building and pension plans. At the Xetra-Gold booth, we were able to answer a number of interesting questions on gold in general as well as on our investment product. The most frequently asked question: "Where is the gold deposited?"
As this year marks the tenth anniversary of Xetra-Gold, our brand new 3D commercial premiered at the event.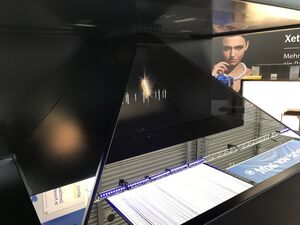 The matching give-away was distributed more than 2000 times at our booth. With a special app and a small plastic funnel placed on the smartphone, the fascinating 3D technology can be experienced anytime, anywhere. Come visit us at one of our next events or trade fairs and pick up one of these popular giveaways! Until then, the video is availble in 2D here: https://youtu.be/Qgov1g6qOEI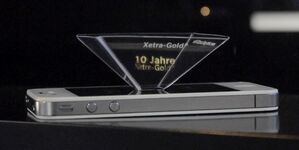 Our lecture "Gold as an asset class – ten years of Xetra-Gold" was extremely well attended (with every seat taken). Following the lecture, listeners had the opportunity to ask our speaker Sabrina Schwiertz further questions and to pick up a copy of the new Mercer study assessing gold as an investment class.
By the way: next year, the event will be held from 13 to 14 April, so please mark your calendar. And the Xetra-Gold team will be sure to greet you with a new surprise. We look forward to seeing you there!