Panning for gold: an activity holiday for the entire family
News (Advertising) Arnulf Hinkel, Financial journalist – 19.05.2021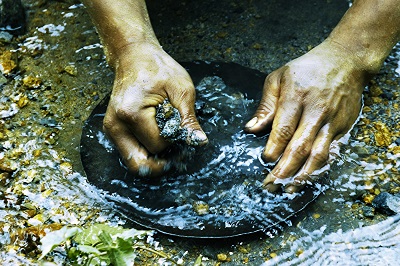 The Covid-19 vaccination campaigns across the EU are making good progress and incidence rates are falling almost everywhere in Europe. However, we are still far from hopeful for summer holidays that are free of any restrictions, and this is especially true for families whose children and adolescents are unlikely to have been vaccinated by then. Germans are world champions in per capita gold ownership and thus obviously particularly fond of the precious metal. For them, a summer holiday spent along German rivers learning the art of gold panning could be a great alternative to travelling abroad.
The legendary Rheingold is no legend at all
The German legend "Nibelungenlied" refers to a sunken gold treasure as "Rheingold" (Rhine gold), and gold can indeed be found in the river Rhine near Bad Bellingen and Neuenburg with relatively simple methods like those used by gold panners during the California gold rush. Apart from the Rhine, professional German gold prospectors also recommend certain sections of the rivers Elbe, Isar and Inn as promising sites. Smaller rivers such as the Eder, Wietze, Göltzsch, Striegis, Schwarza, Aller or Grümpen are also well worth a look, according to the web portal Gold.de.
Wide range of amateur panning workshops
To ensure that the initial enthusiasm for gold panning does not quickly turn into frustration, newcomers should seek professional advice. Gold panning classes are offered in various German regions, and they often include a wide range of information on gold and gold prospecting. As part of a guided tour through Dr Schade's gold museum in Thuringia, for example, visitors can also watch a gold panning demonstration. A number of other providers offer gold panning workshops, which can be a fun way for families to prepare for an action-packed holiday.