How about a little gold rush?
News (Advertising) Arnulf Hinkel, financial journalist – 06.06.2019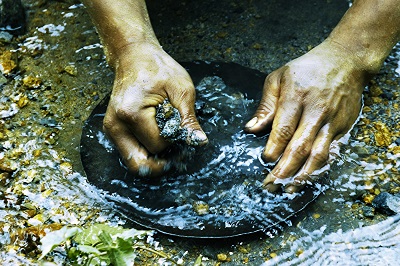 The holiday season is fast approaching, and those who like a more active vacation than sunbathing and dining might, with a little luck, be richer not only in experience at the end of their summer holiday: gold fans and their families could go on an active holiday as a hobby gold prospector. The German tour operator Marco Polo likes to cite the example of 12 year-old Michael Detlaff, who did not discover gold, but a diamond worth over €9,000 during a treasure hunt in Arkansas.
Following in the footsteps of the first gold prospectors in America and South Africa
In addition to US destinations, the historic Canadian gold rush destinations are popular with today's hobby gold seekers, for example in the Klondike and Yukon rivers. Here, tools for gold washing are available for rent everywhere. The famed South African gold digging site, Pilgrim's Rest, which was founded in 1873 during the great gold rush, was discovered as a tourist attraction some time ago. Today, the city offers hobby gold hunters armed with a gold pan the opportunity to become "diggers" themselves.
Just around the corner
If you don't want to travel halfway around the globe to indulge in your own little gold rush, there are numerous opportunities for an active gold-digging holiday in Europe. Germany has various great locations, such as St. Oswald-Riedhütte in Eastern Bavaria or the so-called Goldlehrpfad near Oberviechtach in the Upper Palatinate, where holidaymakers can learn all sorts of interesting facts about gold mining before trying their hand at being prospectors themselves. Those who prefer to search for gold in the water can do so in the Rhine River near Bad Bellingen and Neuchâtel. Neighbouring countries also offer an array of opportunities for hobby gold seekers, for example the Rauris valley in Austria or in the Swiss mountain village of Disentis, where the country's most extensive places of discovery for gold are located on the banks of the Rhine.
Picture rights: © panthermedia.net /tonyoquias