Figure of the month: 35 metres
News Arnulf Hinkel. financial journalist – 01.01.2021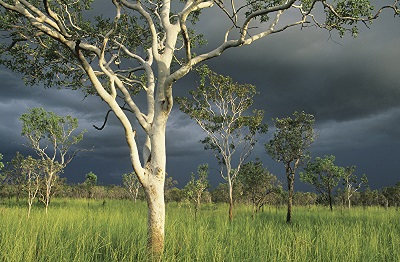 The resource-rich Kalgoorlie region of Western Australia is characterised by an extremely hot climate and a constant lack of water, causing its eucalyptus trees to grow their roots up to 40 metres deep to secure enough water supply to survive. So why is the figure of the month 35 metres? Simply because there are gold deposits at a depth of 35 metres, and their discovery has led to the settlement of a decades-long academic discourse.
Gold growing on eucalyptus trees?
Of course no scientist would ever assume that gold could grow on trees. However, gold particles are regularly found on eucalyptus leaves in the Kalgoorlie region and experts have been in disagreement about how the precious metal might have appeared there. Did it emerge from the trees or was it airborne? A team of CSIRO (Commonwealth Scientific and Industrial Research Organisation) researchers, led by geochemist Melvyn Lintern, was able to solve the mystery. The results of their research has since been published in the multidisciplinary scientific journal "Nature Communications". The researchers were able to prove that the eucalyptus trees suck up microscopic gold particles into their trunks along with the water they normally absorb. Since gold is toxic to these plants, the trees try to excrete the precious metal, thus moving it to their extremities, i.e. their leaves.
A new method for locating gold deposits?
The findings of Lintern and his colleagues could have far more than purely academic value: it seems quite possible that an analysis of the mineral content of eucalyptus trees could at least partially replace test drillings for gold deposits in the future, thus not only reducing the exploration cost of mining companies, but also contributing to environmental protection. However, it has not yet been conclusively clarified why, even in the most immediate vicinity, some trees store gold while others do not.