A quite different way to enjoy gold: the world's five most expensive pizzas
News Arnulf Hinkel, financial journalist – 23.08.2023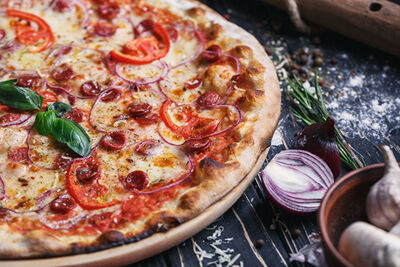 Compared to diamonds and other particularly high-priced materials that could theoretically be used to top a pizza, 24-carat gold has one huge advantage: it is digestible. Restaurants that want to offer their wealthy guests something special, or perhaps simply hope to gain more media exposure, take advantage of this property. An astonishing number of chefs in exclusive restaurants have come up with the idea of combining the Italian pizza, usually an everyday meal, with gold, of all things.
A gold pizza can cost as much as US$180,000
According to research by the web portal Global Intergold, the by far most expensive pizza is available in an exclusive Italian restaurant in – no surprise here – Dubai. In addition to gold, the pizza features white truffles, and Beluga caviar marinated in champagne, amongst other noble ingredients. Given the US$180,000 price tag, however, you'd better bring a platinum credit card. The second most expensive pizza in the world, at US$70,000, can be ordered in Canada. Its toppings include an ounce of gold leaf, cheese aged for ten years and Japanese beef. By contrast, the third most expensive pizza, also in Canada, is almost a bargain: at just US$4,250, its toppings include lobster, caviar, and white truffles in addition to 24-carat gold leaves.
Pizza Royale: dedicated to the world's most famous secret agent
James Bond has been the inspiration for many a product: luxury wristwatches, expensive cars, champagne – but a pizza is a bit out of the ordinary. Topped with cognac-marinated lobster, deer medallions and, of course, gold leaf, it was produced exclusively for a charity auction in 2007 and went to the highest bidder for US$2,770. Only slightly cheaper, coming in fifth, is Margo's Pizza with white truffle and gold leaves on the island of Malta, which can be ordered by anyone for US$2,400.