Win VIP tickets for "The Golden Couch"
News (Advertising) 17.08.2018
TV's financial expert Markus Koch discusses with selected talk guests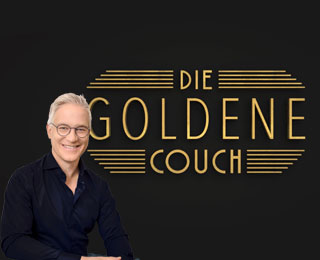 Any private investor can certainly say from experience that investing money can be quite an emotional issue. However, there should be no room for emotions when it comes to investment questions. What is needed is a cool head. TV's financial expert Markus Koch will be discussing this topic with selected talk guests, dissecting the prevailing emotions of many investors, and taking a promising look into the future of smart investment strategies. Does that sound exciting? Wait, it gets even better.
A show of emotions: euphoria and panic
The golden twenties of the last century were marked by jazz, but also by raging emotions – and these years serve as the show framework for the "Golden Couch". Between the exciting rounds of talks, visitors of the exclusive show will be treated to a varied stage entertainment programme to set the stage for the second part of the evening. Following the 90-minute show programme, the event will conclude with an after-party.
It all starts in Berlin
The Capital was the social and economic centre of the roaring 1920s in Germany – an ideal location for the "Golden Couch": the very first show will be on 6 October 2018, thus taking place in time for the Berlin Stock Exchange Day. However, the location of the show organized by Markus Koch together with MaxBlue and Xetra-Gold will be everything but typical for the stock market. The "Golden Couch" will not remain in Berlin: the next show will take place on 3 November 2018 in Hamburg. More shows will follow in 2019.
> The ticket raffle for the Hamburg event will start shortly
And in case you are not one of the lucky winners: all shows will be taped and can be viewed later on the Xetra-Gold website.