Quite successful end to last year and start to 2023
Market report Michael Blumenroth – 06.01.2023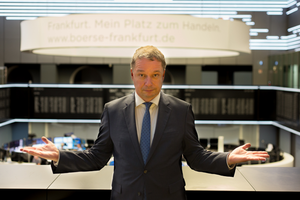 I would like to start by wishing all readers a happy new year. May 2023 be a year of beautiful and unforgettable moments, and of health and success.
Investors who favoured gold over equities and bonds last year were in most cases either right – or at least not completely wrong. Whereas the majority of equity indices in the US and Europe dropped considerably, the price of gold in dollars just managed to remain profitable, with a very small increase of around one per cent. However, the price of gold in euros climbed by more than six per cent.
Good start to new year ends abruptly thanks to surprisingly positive US data and prospect of continued high interest rates
Gold trading did not start again until Tuesday, due to the New Year's holiday on Monday in Tokyo, London and New York. Although gold prices bucked the continued significant rise in yields in the last few trading days at the end of December (e.g. 10-year Bund yields of 2.558 per cent were at their highest since 2011 at year-end), they initially benefited from a countermovement on the stock markets at the beginning of the new year. Returns there were on the demise, which often lends tailwind to gold prices. However, the wind changed direction on Wednesday, after US data indicated that the labour market remained robust. The Job Openings and Labor Turnover Survey (JOLTS) data was surprisingly little changed at 10.5 million job openings, and the employment subcomponent of the ISM Manufacturing PMI increased much further than expected. More positive data on the US labour market was published yesterday too.
The minutes of the December meeting of the FOMC published on Wednesday evening made it explicitly clear that none of the 19 members of the committee expected a rate cut in 2023, but the markets had stubbornly still priced two rate cuts into the second half of 2023 even after the meeting. However, the excellent labour market data and the meeting minutes added to the factors pointing to key interest rates remaining high, and therefore to a rise in US yields and an appreciation of the US dollar. And that is precisely what happened – in textbook fashion – followed by gold giving back the gains of the first two trading days on this year.
Volatile price developments trending slightly upwards
On Tuesday two weeks ago, gold was still trading at USD 1,795 per ounce, and by the end of the year was at USD 1,824 per ounce. It jumped to USD 1,865 per ounce in the first two hours of trading on Wednesday morning, but had given back all these gains by yesterday afternoon. It then recovered slightly to around USD 1,838 per ounce at 8 a.m. this morning.
The price of Xetra-Gold also increased slightly over the same period during normal trading hours. Before Christmas, the precious metal was still trading at EUR 54.45 per gram, and at year-end at EUR 54.80 per gram, but by Wednesday morning of the new year, had risen to EUR 56.40 per gram. It declined again yesterday afternoon, but "only" to EUR 55.80 per gram, due to the weaker EUR-USD exchange rate. Given that the euro depreciated somewhat further last night, Xetra-Gold is likely to start trading at around EUR 56.20 per gram this morning.
US jobs report and consumer price data are a barometer for future interest rate policy
The official US jobs report is due to be published this afternoon, with the highlight of next week the publication of US consumer price data. Both economic indicators will likely be closely analysed with a view to their effect on the Fed's future interest rate policy.
I wish all readers a relaxing weekend and a good start to the new year.