Gold continues on record hunt
Market report Michael Blumenroth – 21.02.2020
Market report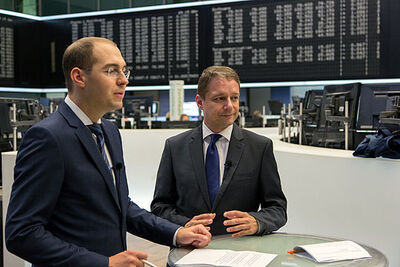 Gold has surged to new record highs, and the explanation is complex.
The continued spread of the coronavirus and the fact that it will almost inevitably slow down the global economy, especially in China, and have an overall impact on the first quarter, are causing an ongoing yearning among investors for safe havens. Although the stock markets still seem to assume that there will be catch-up effects from the second quarter at the latest, and economic data could improve accordingly, it is still too early to say. However, many leading stock market indices worldwide have moved to all-time highs in recent days; gold purchases could be seen as insurance against a correction on the stock markets. The global gold holdings in ETFs and ETCs, i.e. all gold certificates traded on exchanges, have risen to an all-time high again this week.
Government bond yields recede
The gold price was also supported by the fact that market rates/yields on government bonds worldwide are currently once again retreating. US treasuries fell to their lowest level since September 2019; in Europe, it is particularly noteworthy that Italian and Greek 10-year government bonds are yielding well below the 1 per cent mark, which seemed hardly conceivable a few weeks ago.
Gold in euro at all-time high
Under normal circumstances, the gold price suffers under a strong US dollar. In the current environment, however, it is the commodity currencies' weakness, and in particular that of the euro, which has fallen to a three-year low against the US dollar and to a five-year low against the Swiss franc, that seems to be triggering additional demand for gold. In a number of currencies, among them the euro, the precious metal rose to new all-time highs in the course of the week.
In a direct week-on-week comparison, gold traded about US$60 higher this morning than a week ago, when it stood around 1,575 $/ounce. After trading just above 1,580 $/ounce on Friday and Monday, the upward movement accelerated from Tuesday afternoon onwards. Additional buyers may have entered the market on Wednesday, when the seven-and-a-half-year high reached in January of around 1,611 $/ounce was exceeded, leaving room for upward movement on the charts. By 9 this morning, the gold price had climbed to 1,636.50 $/ounce. Currently gold trades at 1,635 $/ounce, a weekly gain of more than 3.5 per cent.
The euro traded weaker and fell to 1.0778 €/US$, which caused the price of Xetra-Gold to rise slightly higher (about 4.2 percent) than the gold price against the US dollar.
As mentioned above, gold against the euro (down to €1,513/ounce this morning) and Xetra-Gold hit new record highs almost daily. During regular trading hours, it rose from 46.70 €/gram last Friday morning to 48.75 €/gram this morning at the start of trading on Xetra, where it has since lingered.
Will we see profit taking?
Gold is currently on a roll. The question is whether profit-taking could occur at some point in the near future, or whether the market could be overbought at some point in the short term, causing positions to be closed out as soon as the news about the coronavirus eases. Currently, however, the refuge into safe havens seems to be dominant.
I wish all readers a relaxing weekend.