Figure of the month: US$7,590,020
News (Advertising) Arnulf Hinkel, financial journalist – 03.02.2020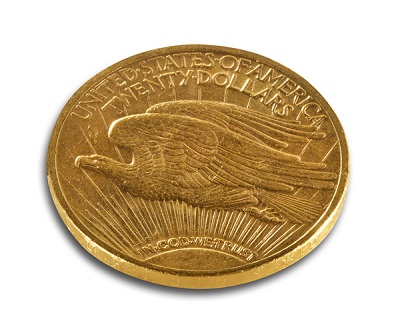 When it comes to gold coins, Krugerrand, Maple Leaf and Vienna Philharmonic are usually the first to come to mind: so-called bullion coins, whose nominal value corresponds to the actual value of the gold. Collector's coins, on the other hand, are quite a different species, and can far exceed their nominal value if limited or very old. The US 1933 Double Eagle holds the record, being the most valuable gold coin across the world to date.
How US$20 turned into nearly $7.6 million
When the American sculptor Augustus Saint-Gaudens designed the motifs of the US$20 gold coin in the early 20th century, he most certainly did not expect that this coin would ever be worth US$7,590,020. The so-called "Double Eagle" was minted between 1907 and 1933, and the last edition is the most coveted. Its fame is due to the Executive Order 6102, with which the US government imposed a nationwide gold ban forbidding private ownership of the precious metal in 1933. As a consequence, the recently minted edition of the Double Eagle was immediately melted down again. Exactly how many Double Eagles have survived is unknown, but only one has since been auctioned, for US$7,590,000. By the way, the successful bidder also had to pay the US$20 nominal value.
Most valuable German gold coin: almost 400 years old
The "Jakobslöser" gold coin, minted in 1625, sold for €911,500 at an auction in London. Even in 1625, this coin was considered not so much a means of payment than an investment. However, it did not make it into the top ten most valuable gold coins.
A fun fact as a closing note: the most expensive coin in the world is not made of gold, but of silver. It is the 1794 Liberty Dollar with a current value of US$7,850,000 – the first dollar ever minted by the U.S. Mint.
Image rights: © PantherMedia /f/2sumicron (YAYMicro)