Figure of the month: 175 grams
News (Advertising) Arnulf Hinkel, financial journalist – 02.11.2020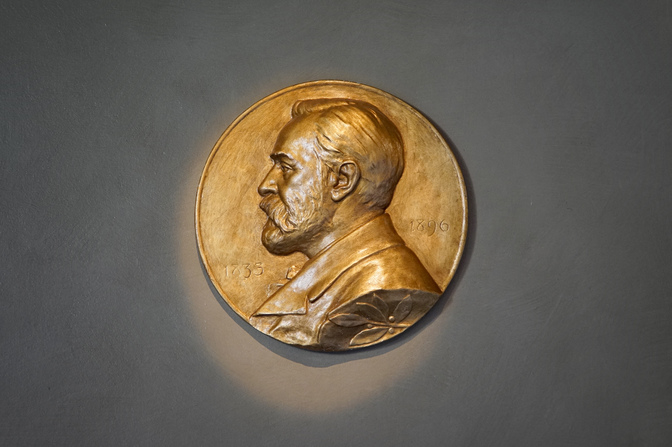 The 2020 Nobel Prizes were recently awarded in the categories physics, chemistry, medicine, literature and economics, as was the Nobel Peace Prize. In addition to the prize money of 10 million Swedish kroner (approx. €964,339) and an individually designed certificate for the respective winner(s), the laureates also receive a gold medal.
Gold medals aren't just for athletes
The first Nobel Prize was awarded in 1901, but it was for the second award ceremony the following year that the design of the gold medals was finished by Swedish sculptor and engraver Erik Lindberg. His design is used to this day. The front of the medal features a portrait of Alfred Nobel, while the reverse differs according to the respective Nobel Prize category. The exceptions are the medal for the Nobel Peace Prize with its slightly different front, and the medal for the Nobel Prize for Economics, which was created by a different designer, Gunvor-Swensson Lundqvist.
A lightweight among the gold medals
At a mere 175 grams, the Nobel Prize gold medal weighs less than a third of an Olympic gold medal, which is 586 grams. However, the Nobel Prize medals' inner values are impressive. Whereas Olympic gold medals are made of silver and covered with 6 grams of 24-carat gold, Nobel Prize medals are made of 18-carat green gold, an alloy of gold, silver, and copper, and plated with a 24-carat gold layer. This difference is apparent in the pure material value. The production of an Olympic gold medal costs around €500; that of a Nobel Prize gold medal almost €9.000. And the market value can, of course, be much higher: the gold medal awarded to James Watson, who discovered the DNA structure together with two colleagues, was sold at auction in 2014 for US$4.7 million.