A week that will go down in history
Market report Michael Blumenroth – 13.03.2020
Weekly market report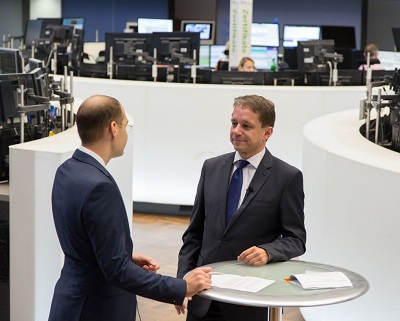 Throughout the past week, the coronavirus again caused turbulence, and volatility on a scale not seen for a long time This was especially evident across the stock markets, where yesterday the three leading US indices as well as the German DAX suffered the highest daily percentage losses in 33 years. The Italian FTSE MIB suffered the largest daily loss in its history.
Movement across government bond markets were similarly impressive. In the US in particular, Treasuries' yields plummeted to levels unimaginable at the beginning of the year. All US government bonds temporarily yielded less than one per cent; ten-year Treasuries dropped to 0.33 per cent.
What caused the gold price to drop?
Instability across stock and government bond markets normally creates an environment in which the gold price thrives. However, it plunged significantly yesterday. As we have recently pointed out, most financial crises are caused by a lack of liquidity. As far as gold is concerned, massive gold positions were apparently liquidated yesterday on the New York and Chicago futures exchanges. The speculatively oriented market participants had previously taken on higher gold positions than ever before, which were partially sold yesterday to gain liquidity, due in part to profit taking after the gold price increase of the past weeks. In addition, investors were forced to liquidate positions to compensate for losses on other markets (especially stocks). Gold, in spite of its safe haven appeal, has therefore also come under pressure.
Gold in US dollars currently around 1,582 US$/ounce
Week-on-week, gold was traded this morning a good deal lower than exactly a week ago, when it stood at $ 1,673/ounce. After a reset to 1,642 $/ounce on Friday afternoon, the precious metal jumped to a new seven-year high in US dollars, to 1,703 $/ounce before Monday morning. It then reset and traded between 1,640 and 1,680 $/ounce until yesterday, Thursday, before coming under real pressure for the reasons mentioned above. Last night's low was 1,550 $/ounce; it currently trades around 1,582 $/ounce.
Xetra-Gold currently around 45.50 €/gram
On Monday, the euro rose to nearly 1.15 €/US$, but receded to 1.1055 €/US$ yesterday following the ECB meeting. Xetra-Gold also dropped significantly within regular trading hours from 47.85 €/gram last Friday morning or the weekly high of 48.10 €/gram to 45.20 €/gram yesterday afternoon. It has since risen only slightly, to 45.50 €/gram at the start of trading this morning.
Market sentiment dominated by uncertainty
At the moment, the markets are clearly dominated by uncertainty about the economic consequences of the coronavirus. The primary focus will be on fiscal policy (liquidity injections? tax relief? guarantees?), as well as the possibility of a massive further interest rate cut by the Fed next week.
I wish all readers a relaxing weekend.