A week for markets to catch their breath
Market report Michael Blumenroth – 29.11.2019
Weekly market report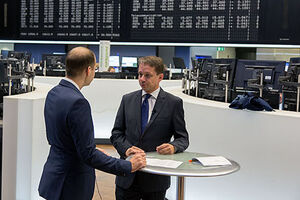 Once again we look back on an incredibly uneventful week across markets, partly due to yesterday's Thanksgiving holiday in the US.
Highlights of the week were certainly the new record levels of the three leading US stock indices and a renewed weakness of some Latin American currencies (Chile, Mexico, Argentina). Otherwise, however, FX and interest rate markets remained largely calm and relaxed. Market participants remain focused on any rumours concerning the US-Chinese trade conflict, with the dominant sentiment that both sides are working to reach deal.
The strength of the equity markets (at least until yesterday) made safe havens less attractive over the course of the week. Government bonds, the yen and gold are therefore trading somewhat lower than at the end of last week.
Gold hits weekly dollar, euro low on Tuesday
In US dollars, gold traded around 1,470 $/ounce on Friday morning last week. After a short excursion up to 1,473 $/ounce on Friday, the gold price was heading south by Friday evening. With new all-time record highs for the three leading stock indices in the US, the precious metal receded to its weekly low of 1,450.25 $/ounce on Tuesday afternoon. As in the week prior, there seem to have been massive sales on the futures exchanges. For the remainder of the week, gold remained between 1,460 and 1,455 $/ounce; it currently trades at 1,458 $/ounce.
Throughout the week, the euro traded within an incredibly narrow trading range against the US dollar and thus failed to send any new impulse into the market.
Xetra-Gold hence also receded somewhat, from 42.75 €/gram last Friday morning to a weekly low of 42.35 €/gram on Tuesday afternoon. It then rebounded to around 42.70 €/gram on Wednesday and traded at around 42.60 €/gram this morning, replicating last week's trend.
Focus remains on trade conflict
As the month draws to a close, the markets are likely to focus on dispositions. Meanwhile, as time until the end of the year is running out, we are still waiting for news regarding the US-Chinese trade conflict.
I wish all readers a relaxing weekend as we ease into Christmas market season.